We have the best neighbors on the planet!  You know those annoying people that live next door and complain about everything?  Not us!  "Those neighbors" don't live on either side of us.  We seriously lucked out!  My boys think our neighbors are their Aunt and Uncle. It doesn't matter that they have different last names.  They don't question why Uncle Richie and Aunt Tonya are not in any family pictures.  Doesn't matter that their skin color is totally different than ours.  I love that they love so freely!  Isn't that what we're instructed to do?
Today my totally awesome neighbor came over to say hello.  While she was here, we started talking about gratitude.  I was showing her how the hubby and I write little messages to each other on a gratitude frame that I made, and she wanted a copy.  I thought since I was sharing it with her, I would share it with you, too.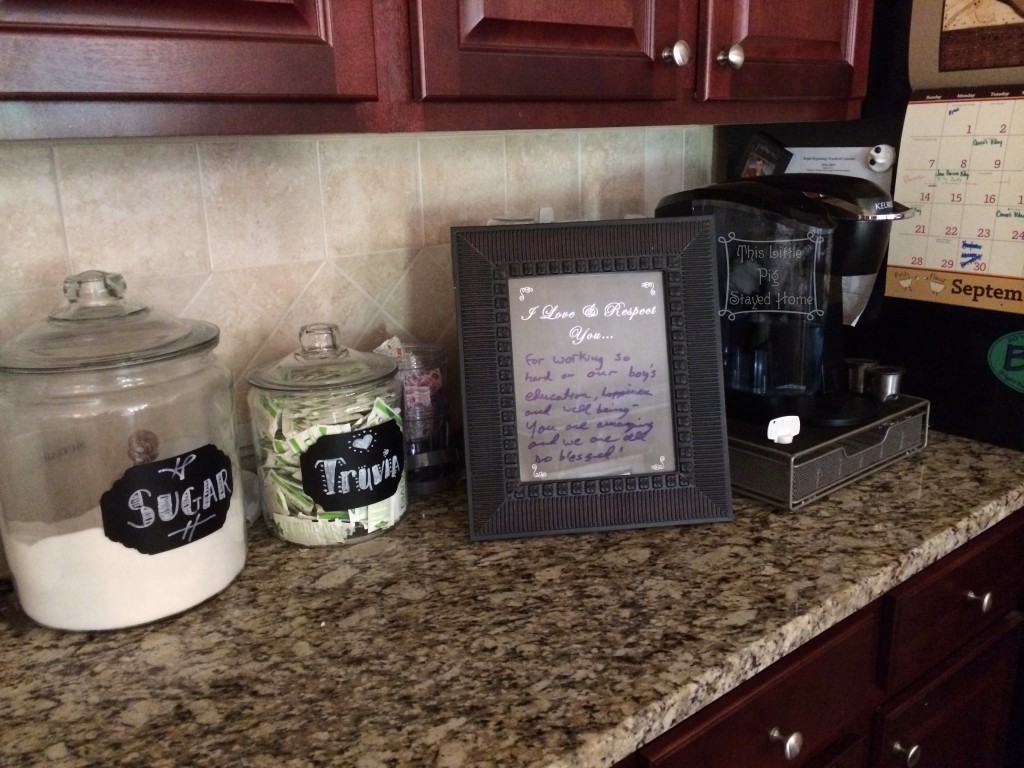 Here's how it started.  At church one Sunday, the minister invited us to share with our spouse reasons we love, respect and are grateful for them every day.  I started writing things on Billy's mirror occasionally, but wanted to come up with another way to leave him messages.
I broke out my trusty chalkboard background on the computer, used some fancy fonts, printed off my results and framed it in an 8″x10″ frame I had sitting around.  Easy as pie!  I use a Vis-A-Vis to write on the glass of the frame.  I suppose I could use a dry erase marker, too.  Doesn't matter, as long as I write on it!
If you want your own, please feel free to copy this one.  Click the link or the picture.  You can also build your own.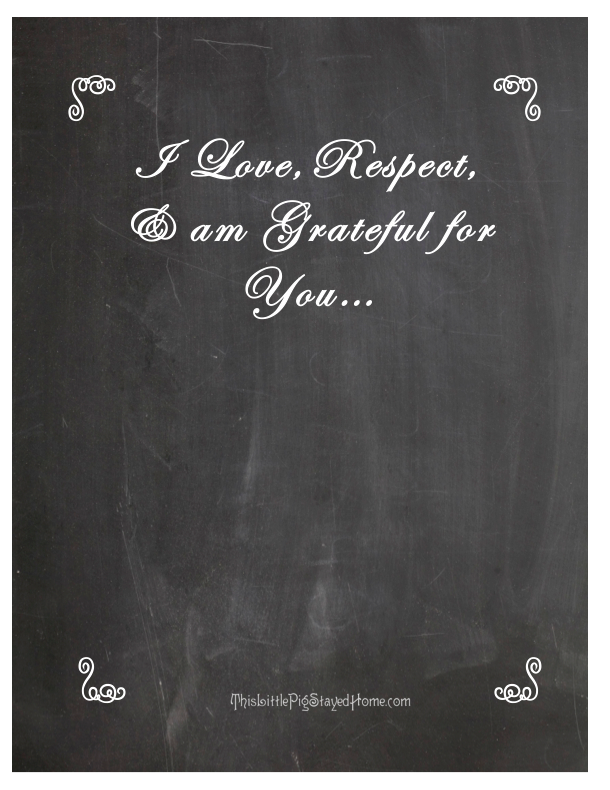 1.  Print it off.  Gratitude Chalkboard Frame
2.  Place the background in a frame.
3. Start telling your special someone why you love, respect and are grateful for them.
You will be amazed how good it makes you feel.  I have to admit – and this is no jab at my hubby – but I am much better at leaving messages.  I don't nag him, or leave arrows pointing toward the empty frame waiting to be filled up.  Sometimes, days or even weeks will pass with the same message on the frame.  Then one morning, out of the blue, I wake up and find the sweetest, most heart felt note waiting for me by my morning coffee.  It is nice when it happens more often, but the important part is that it happens.
I find that it is especially helpful to write a message when the hubs isn't my most favorite person on the planet.  Most days he ranks in the top 1 or 2.  Some days he moves on down the list.  Those are the days when I dig deep and let my gratitude spill out.  It is amazing how much better I feel.
Give it a try.  Your spouse needs to know every day why you still love them!  I would love to hear your results.
Heather