Can you believe it is officially Fall?  It seems like we jumped from getting ready for school, straight to decorating with pumpkins.  Let's not even talk about the shape of the boys' closets!  Switching out Summer clothes and getting Fall clothes in place is on my mile long list of things to do.
During the last three weeks (which went by like a flash), we've had company, pink-eye, sore throats, more company, birthdays, school snacks – almost too much for one Momma to take.  I've got a lot of blogging to do to catch up!
Both Piggies were scheduled to take snack to school on the same day, and we were to take birthday snack for little Piggy Two since his birthday is the end of September.   I knew that we had to take the same thing for both snacks, or Piggy One would be upset have a complete meltdown.  Since Piggy Two is in the Wee Learn (1 year old class), I didn't think the teachers would want to deal with cupcakes.  S0. Much. Mess!  We decided on cookies since it still says, "Hey, it's my birthday!" or "Hey, it's my snack day!" all in one.    Now I needed to make them cute for a birthday snack, but still be appropriate for Piggy One's regular snack.  I needed a Fall theme, so to Pinterest I went.  I searched for Fall cookies and up popped these ca-yute Scarecrow cookies!  The problem was I needed to make them with what I had on hand.  I didn't have licorice, or All-Bran cereal (BLECK!), but I did have candy corn, chocolate chips, and lots of chocolate sprinkles.  Done!
I got out my favorite sugar cookie recipe and went to work. (See recipe below. I will do a whole blog post on sugar cookies soon.)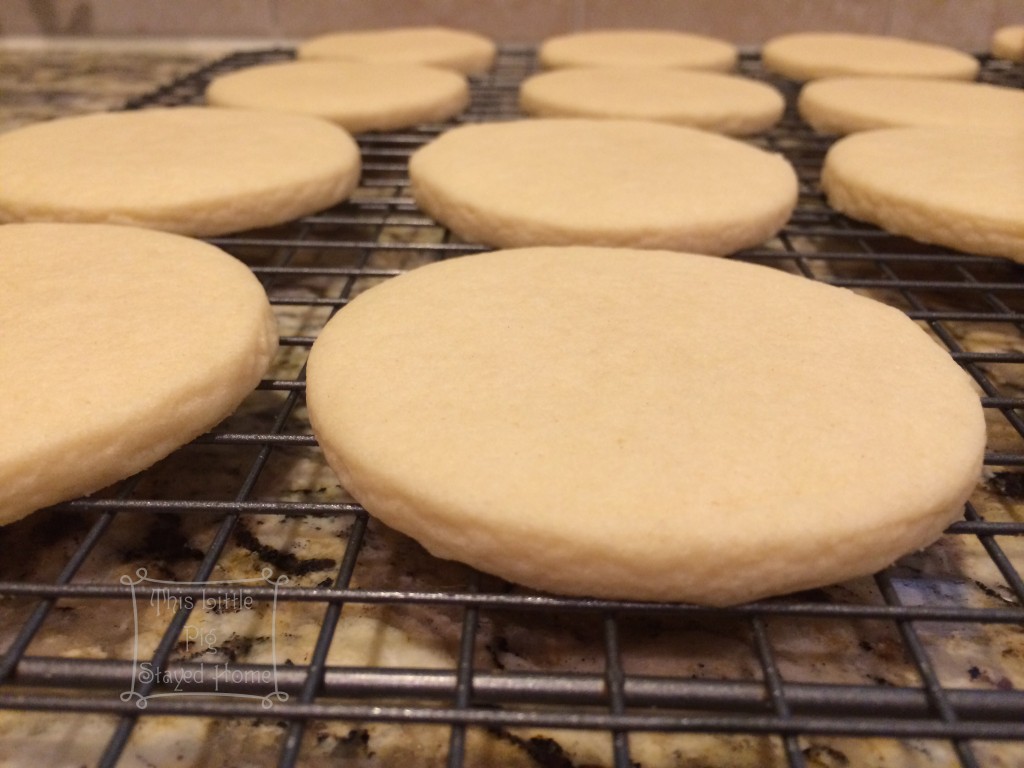 I like to make my cookies ahead of time and freeze them.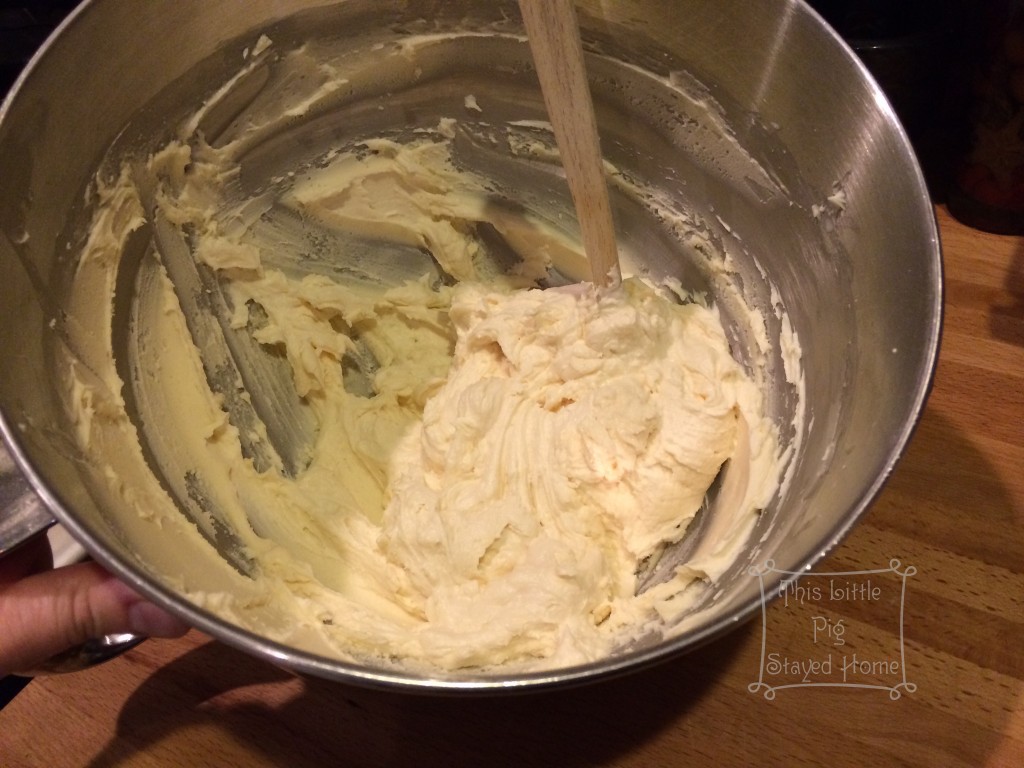 While they were thawing a bit, I mixed up a batch of soft sugar cookie icing.  I decided on softer icing since I would be sticking things into the cookies.  Usually I use royal icing to decorate sugar cookies.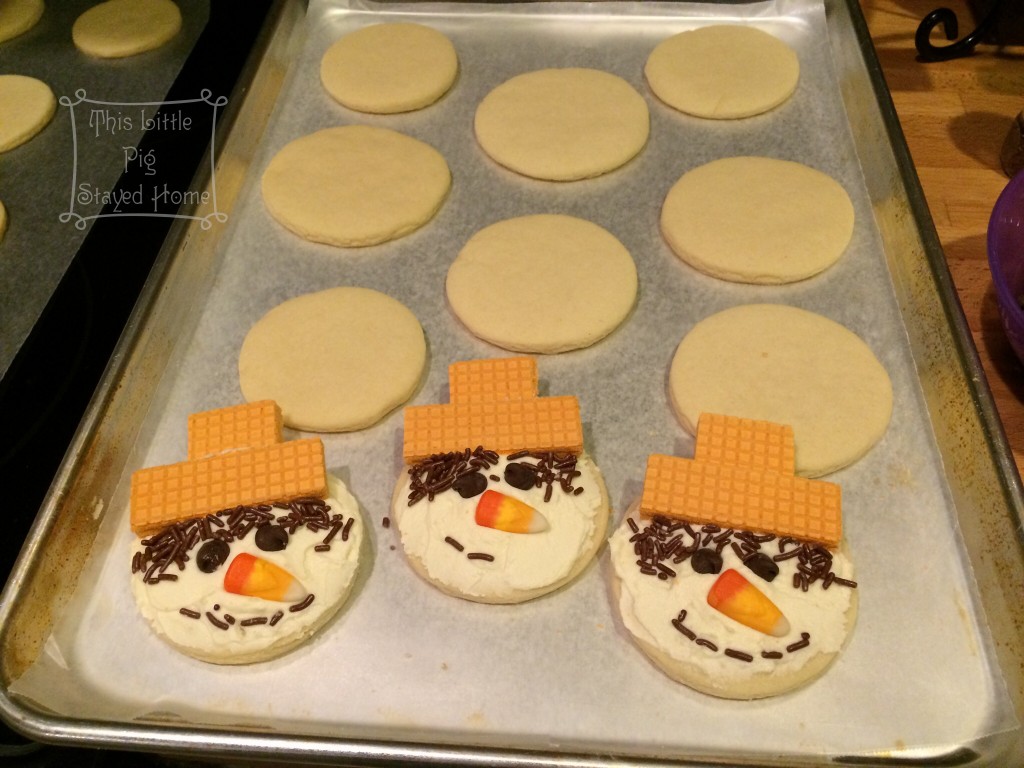 Next, I lined my cookies up onto cookie sheets lined with wax paper.  I have a lot of cookie sheets on hand.  If you don't, you can tape wax paper to cardboard.   This just made it easier to put them in the freezer after they were decorated.
I started by spreading a thick layer of icing onto the cookies.  I wanted the icing to be a little more stiff than soft, so I chose to use shortening instead of butter.  I normally go straight for natural ingredients, but there are times when you just have to use good old Crisco.  After I started icing them, I realized that they were harder to decorate after the icing had been on the cookie for awhile.  I am an organized person, so doing things in a production type manner always makes sense to me.  This time I needed to decorate one cookie at a time.  If I had used butter, it wouldn't have been a problem.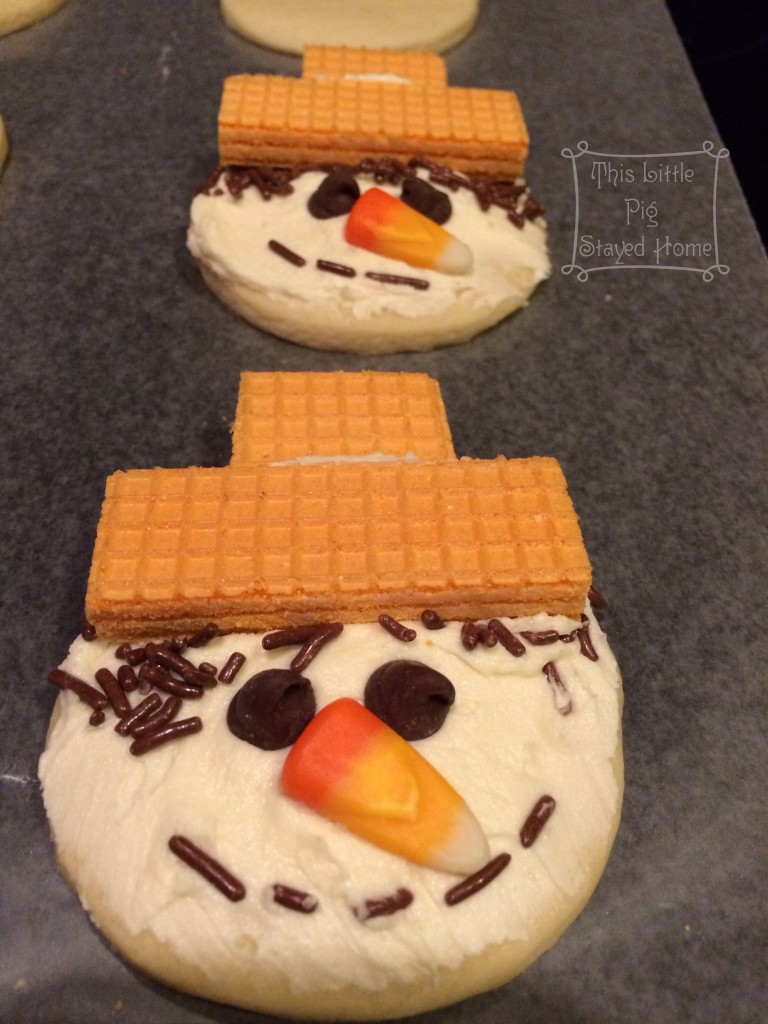 1.  First I spread frosting onto the cookie.  While the frosting was still soft, I used a handful of chocolate sprinkles to make a line across the cookie just above the middle of the cookie.  This was for the hair sticking out beneath the hat.
2.  Next,  I added two chocolate chips for eyes.
3.  After that, I added a candy corn for his nose.
4.  And then I carefully placed chocolate sprinkles for his mouth.  I thought I would have liked the red licorice better because it would have been easier to add, but the sprinkles turned out really cute!
5.  Finally, I added the sugar wafer cookies.  I spread a little icing onto the back of a whole cookie and placed it onto the top half of the cookie.  Next, I spread a little icing onto the side and back of another wafer that had been cut in 1/2.  I added this one in the center to be the top of the hat.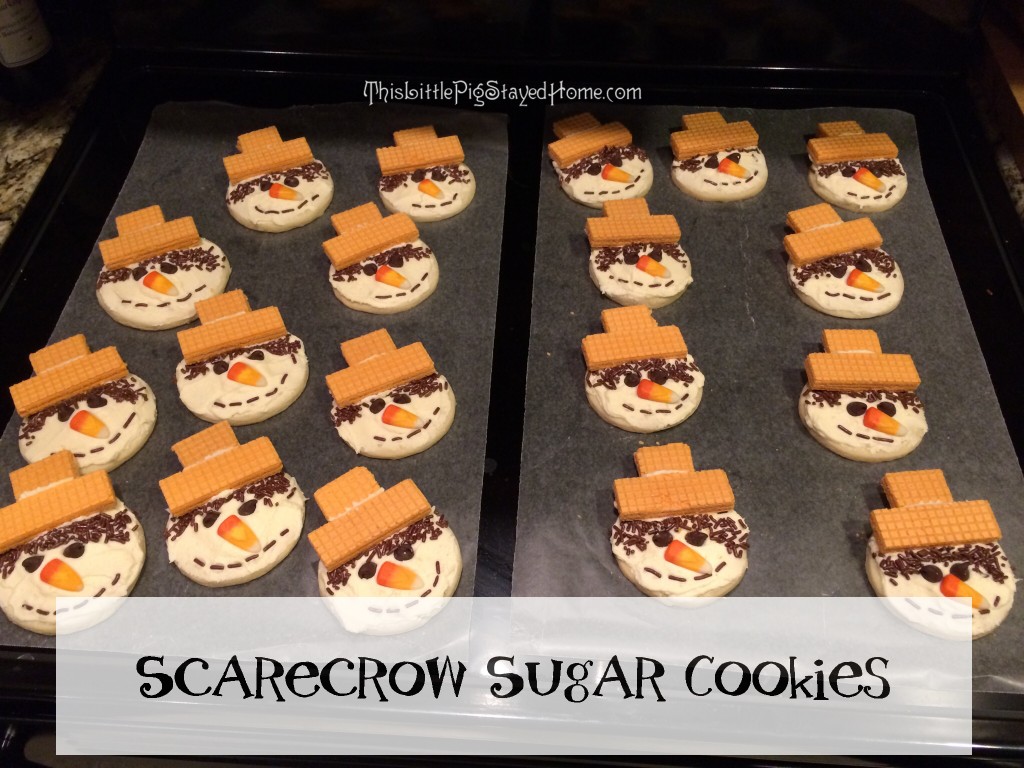 It didn't take long to finish them up.  I tried doing it while the kids were eating super and playing before bed, but gave up quickly.  It wasn't hard, just required my attention while the icing was still soft.  I tried putting sprinkles on the icing after it had sat awhile and they just rolled off.  One cookie at a time is the best way to go unless you choose butter frosting.  (I prefer butter frosting, but I thought it would be more messy for transporting cookies to school.)
These were a big hit!  Everyone commented on them at school, and the kids loved them!
Do you have a favorite fall cookie?
My favorite Sugar Cookie recipe comes from In Katrina's Kitchen.  I modified it a little.  Here's what my recipe ended up looking like.
Sugar Cookie Recipe:
2 Cup butter, softened
2 Cup granulated white sugar
1 teaspoon vanilla extract (Her recipe calls for 2 tsp vanilla.)
2 teaspoon almond extract (Her recipe calls for 1 tsp almond extract.)
2 egg
1 tsp salt (She had no salt in her recipe.  I use it because I use unsalted butter and think salt brings out the sweet flavor.)
4 teaspoons baking powder
6 1/2 cups all purpose flour (Her recipe calls for 6 but I found I needed a little more.  You can adjust it as you need to.  Start out with 6 cups and add a little at a time.)
Directions:
Preheat oven to 350° F.
Cream butter and sugar until smooth.
Beat in one egg at a time.
Add extracts and beat.
Combine baking soda and flour in a separate bowl.  Add a cup at a time to the wet ingredients.  Finish by hand if you find the dough is too stiff for your mixer.  DO NOT CHILL THE DOUGH. Divide into workable batches, and roll out onto a floured surface. These cookies can be between 1/8 to 1/4 inch thick.  The thicker, the longer you'll need to bake.
Bake at 350 for 10-12 minutes. Let cool on the cookie sheet until firm enough to transfer to a cooling rack.  (Katrina says to bake them 6-8 minutes, but they were way too soft in the middle.  My first batch was too buttery.  When I baked them 11 minutes on the dot, they were perfect!  Not brown at all, still a little soft – not too dry, but not so soft they fell apart in the middle.)
Soft Shortening Frosting:
2 Cups shortening
1 Tablespoon vanilla extract

1 teaspoon almond extract 

8 Cups powdered sugar

1/8 Cup whole milk (She calls for cream.  I use whole milk.)

food coloring, if desired
Directions:
Cream shortening.
Add powdered sugar one cup at a time.
Add extracts and then the milk.
If you want it to be thicker, add more sugar.  For thinner frosting, add more milk.
(For these cookies I only made 1/2 a batch of frosting.)
Enjoy!
Heather