There are some things from the 80's best left in the time capsule. Big hair, ALF, Care Bears, Jelly shoes, and Milli Vanilli to name a few. However, there is one thing that made an appearance that thankfully stuck around. Quiche! Am I right? Do you love the stuff like I do?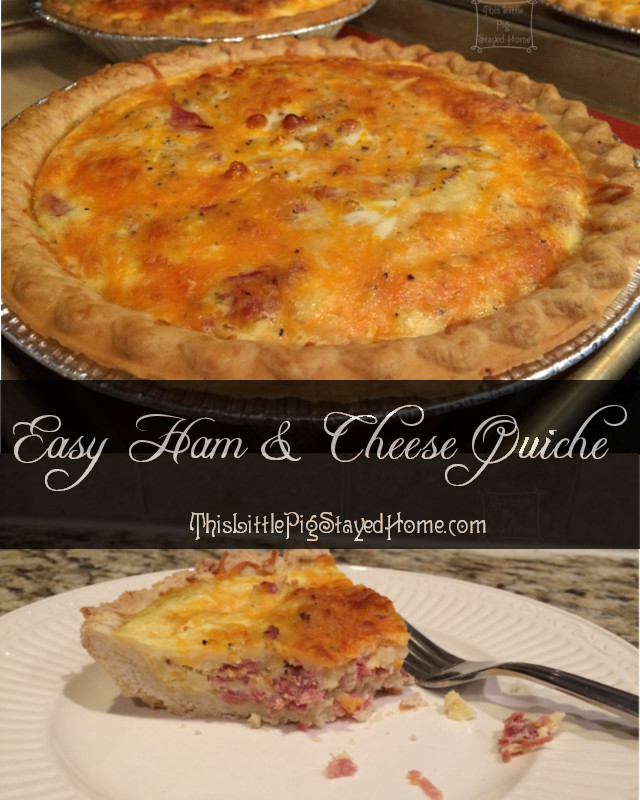 We like to make a ham in the crockpot at least once a month. When we do, we always have leftovers. Sometimes we make ham and bean soup, or ham and potato au gratin soup. This time, I decided to make quiche. We were going on vacation to the beach house, and I like to freeze meals to take. This would be the perfect breakfast (and midnight snacks) while playing in the surf and sand.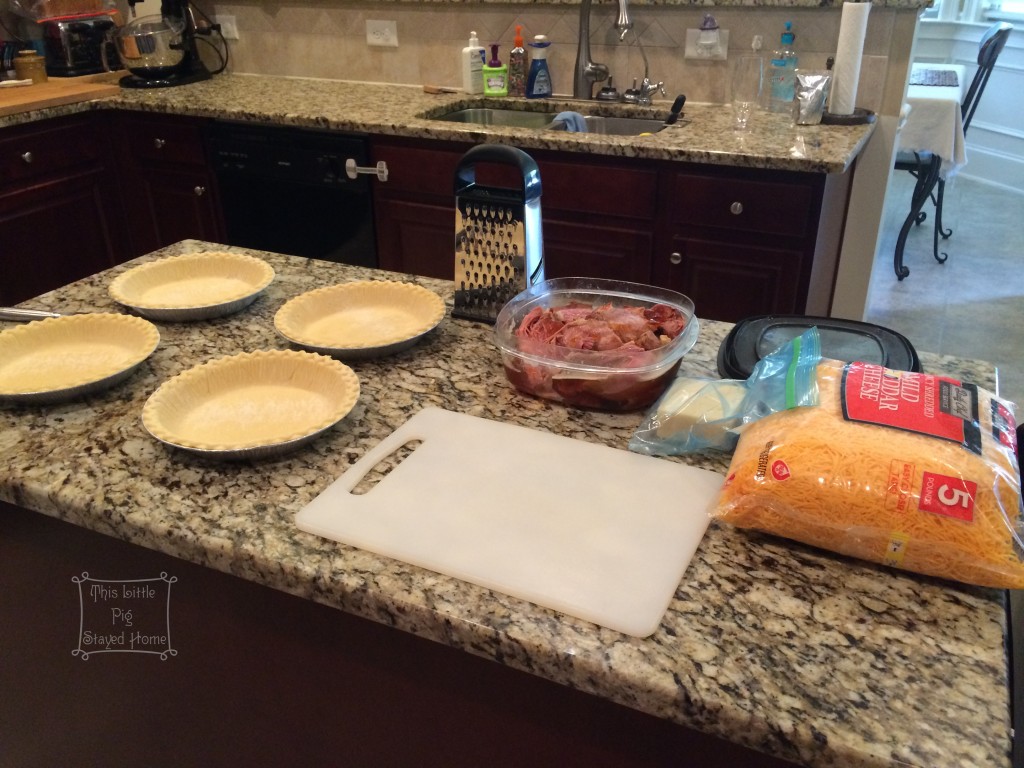 I normally like to make my crust but didn't want to take glass pie pans with me. I priced out the pre-made frozen pie crusts and they are cheap, cheap, cheap. Perfect for me to take to the beach.
I picked up four frozen pie crusts and began to collect my ingredients. I don't know about you, but I love Swiss cheese with ham. I didn't have a favorite recipe to follow, so I looked at a few with good reviews, looked at what I had on hand, and made up my own. 🙂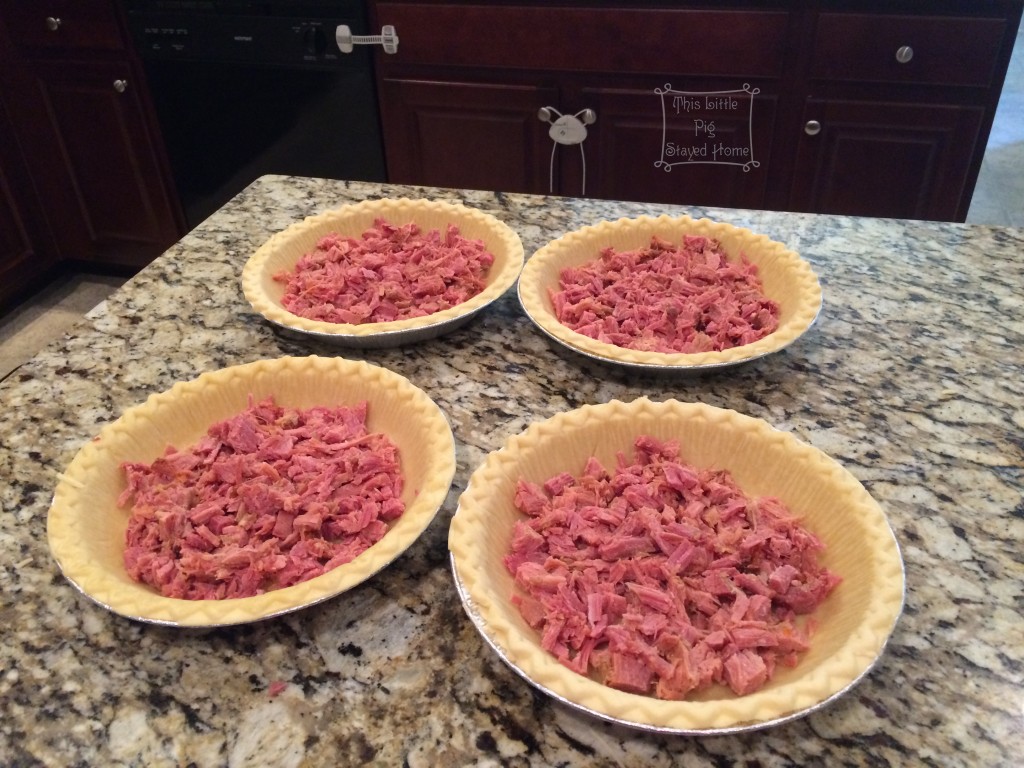 1. First, cut up the ham and add about a cup to each quiche.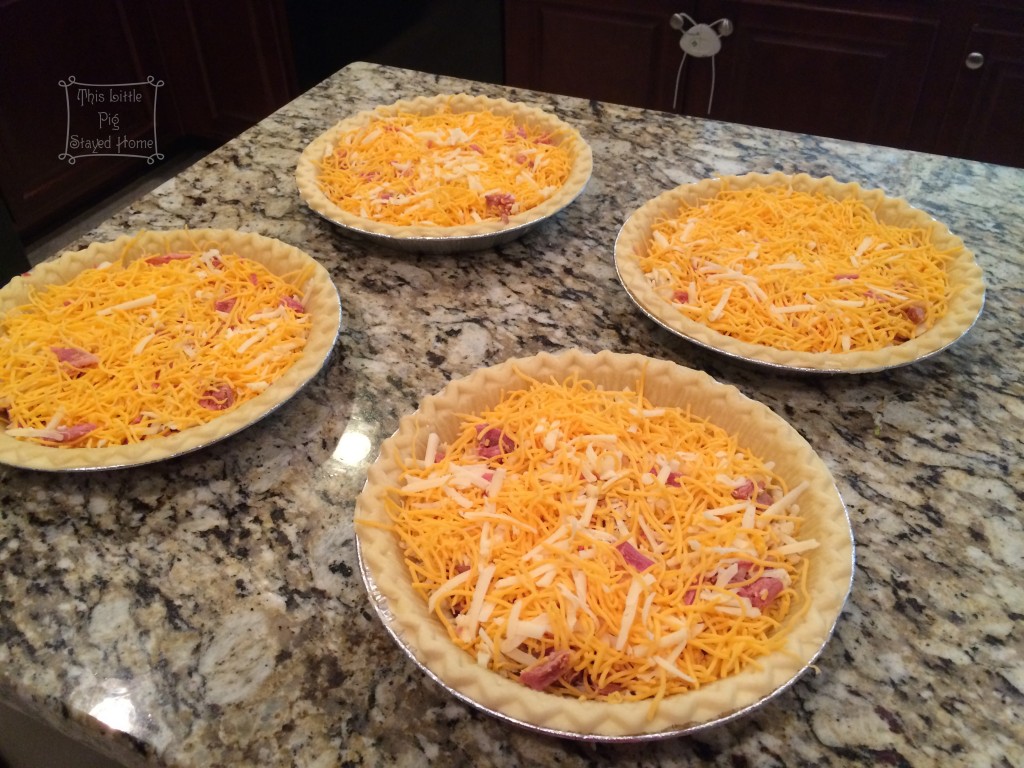 2. Next, add about a cup of cheese to each quiche. I used a cup of cheddar, and probably 1/4 cup of swiss that I had on hand. We like our quiche cheesy!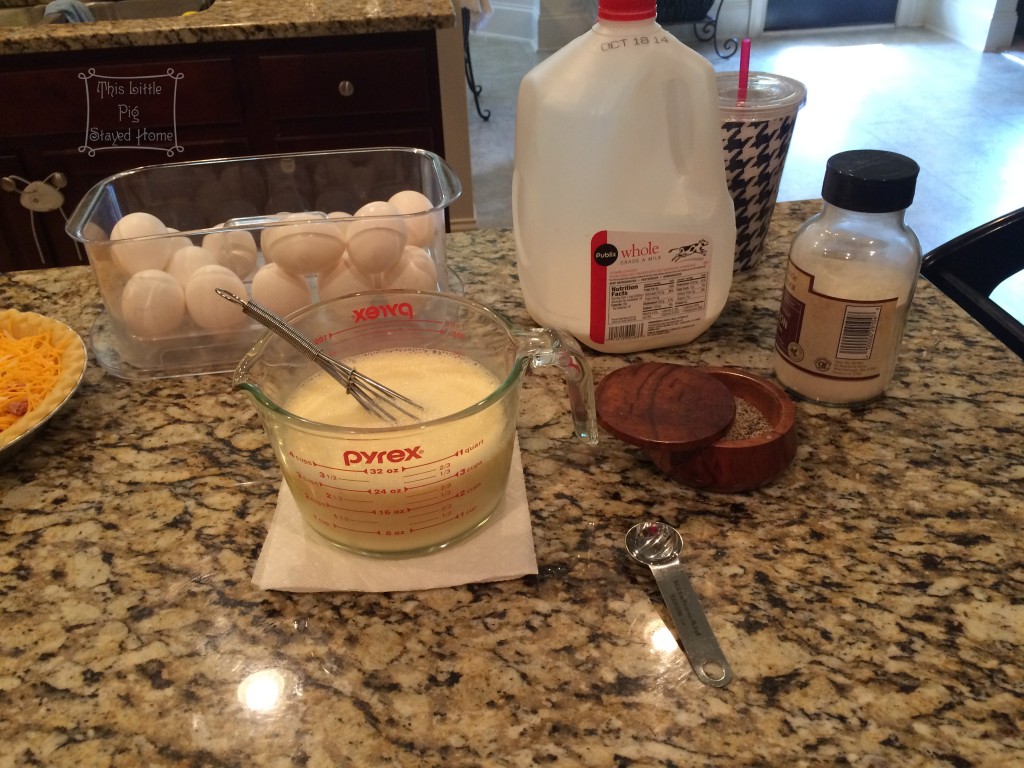 3. Now it's time for the wet ingredients. This is where I tried to make it simple. Many of the recipes called for a roux of butter and flour (equal parts). Some wanted you to sauté onion in the butter first and mix flour with the cheese. This all seemed like too much trouble, and a lot of un-needed fat.
Since we use whole milk for our boys, I whisked up 4 eggs with 2 cups of milk. There's enough fat in whole milk to do the job, so I skipped the recipes with half-n-half, or heavy cream.
To my eggs, I added about 2 teaspoons of my favorite house seasoning – an equal parts mixture of salt, pepper, and garlic powder. (We like garlic in my house!) I also added a Tablespoon of onion powder. I would normally grate a medium onion into the mixture, but our onions were starting to sprout. Yuck!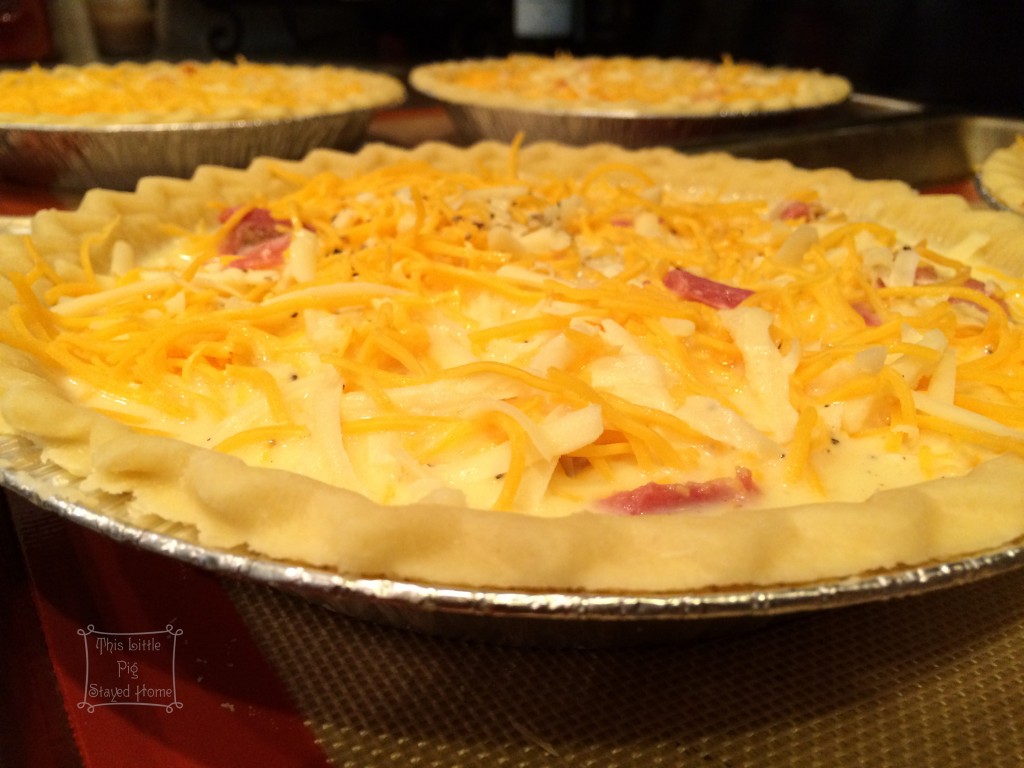 This was enough mixture to make 2 quiches. I repeated the process to have enough wet mixture for 2 more – a total of 4 to make and take on vacation with us.
At this point, they were ready to bake!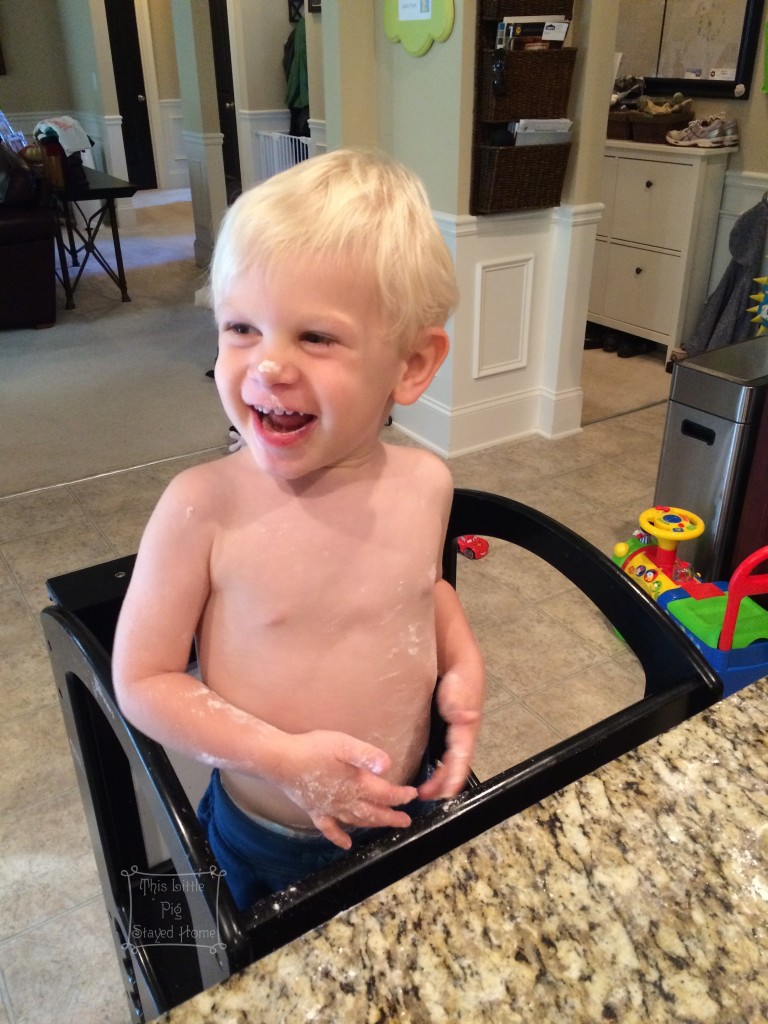 Every post about cooking needs a brief intermission and photo of an adorable sous chef.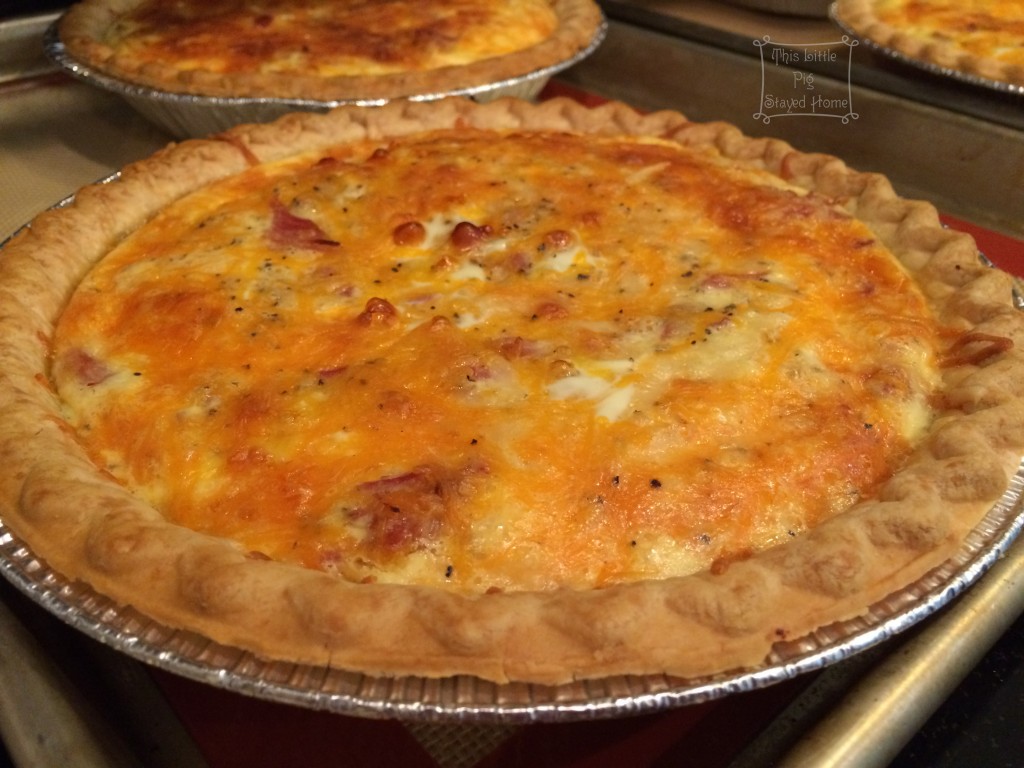 I placed the quiche on a cookie sheet and baked them in a 350ºF for about 30-35 minutes. I jiggled them after 30 minutes, but felt like they needed a little more time. Just make sure you cook them until they are set.
If you decide to add spinach or broccoli to your quiche, give them an extra 5 minutes in the oven. The veggies add a little more water that will need to cook out.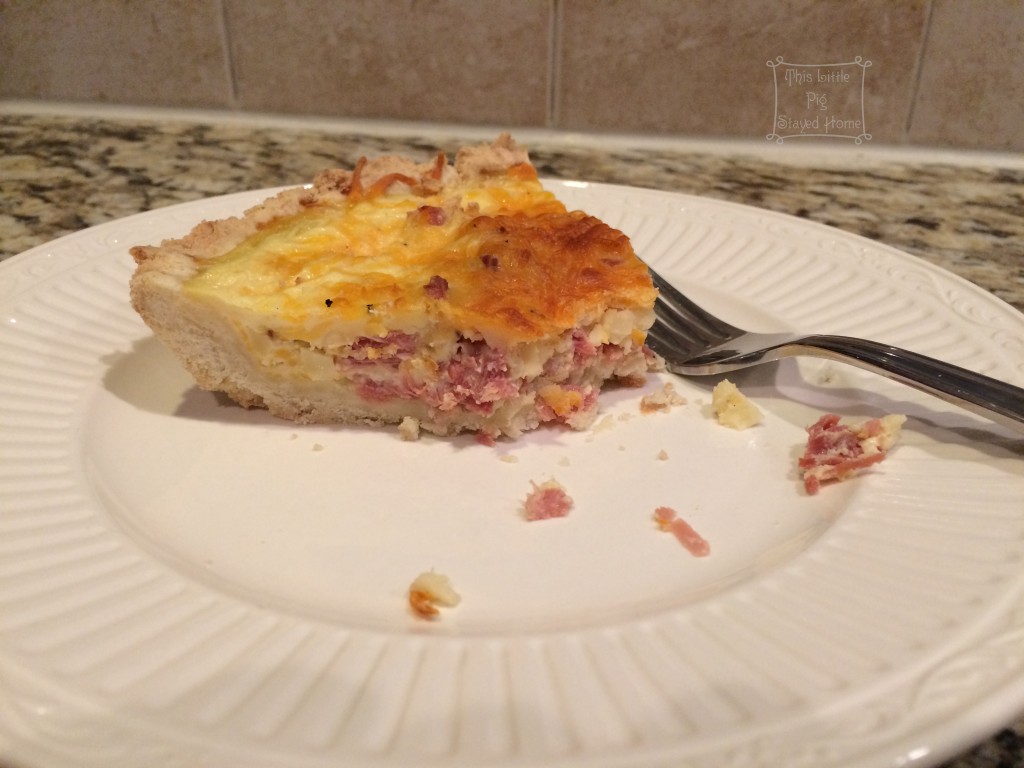 De-lish-us! Delicious, I tell ya! Not just good, but scrumptious! The biggest debate of our family was whether they were better hot or cold. I personally like them right out of the refrigerator. They froze beautifully, and I just put them in the fridge the morning before we were to eat them.
And here is the recipe:
Ham and Cheese Quiche
2 Frozen pie crusts
2 Cups cooked ham
2 Cups Cheddar Cheese
1 Cup Swiss Cheese
4 Eggs beaten
2 Cups Whole Milk
2 tsp house seasoning (salt/pepper/garlic)
1 Tbsp onion powder or 1 medium onion grated
Directions:
Preheat oven to 350ºF
Add Ham and Cheeses to frozen pie crusts.
Beat eggs with milk, seasonings and onion.
Pour wet ingredients into crusts (equally).
Bake 30-35 minutes.
I hope you give this a try. It would be a perfect breakfast for the holidays when you have lots of people around.
What do you like to put in your quiche? I'd love to hear how you tweak this recipe.
Heather