Post number two!  Can I get a "WHAT, WHAT?"   Trying to get the hang of this thing. I'm so glad my hubs and his BFF, Ben Hepworth from Geek Your Blog, get all giggly and school girl squealy when they talk "blog".  Thanks for your expertise, Benny boy!  You too, Babe!  You rock, even if the kids tell me otherwise.
As promised on the last post, today I will fill you in on the elaborate meals I put together for Piggy One.  Before you get your printer ready to copy a 25 step recipe for Beef Bourguignon, let me explain that he has a simple pallet.  Like most typical three-year-olds, he is an expert on Mac-n-cheese, peanut butter, meatballs, pizza, hotdogs… Aaaannnd, that's it!  Not for lack of trying, pleading, or banging my head on the table.
Piggy One's idea of elaborate is all in the presentation!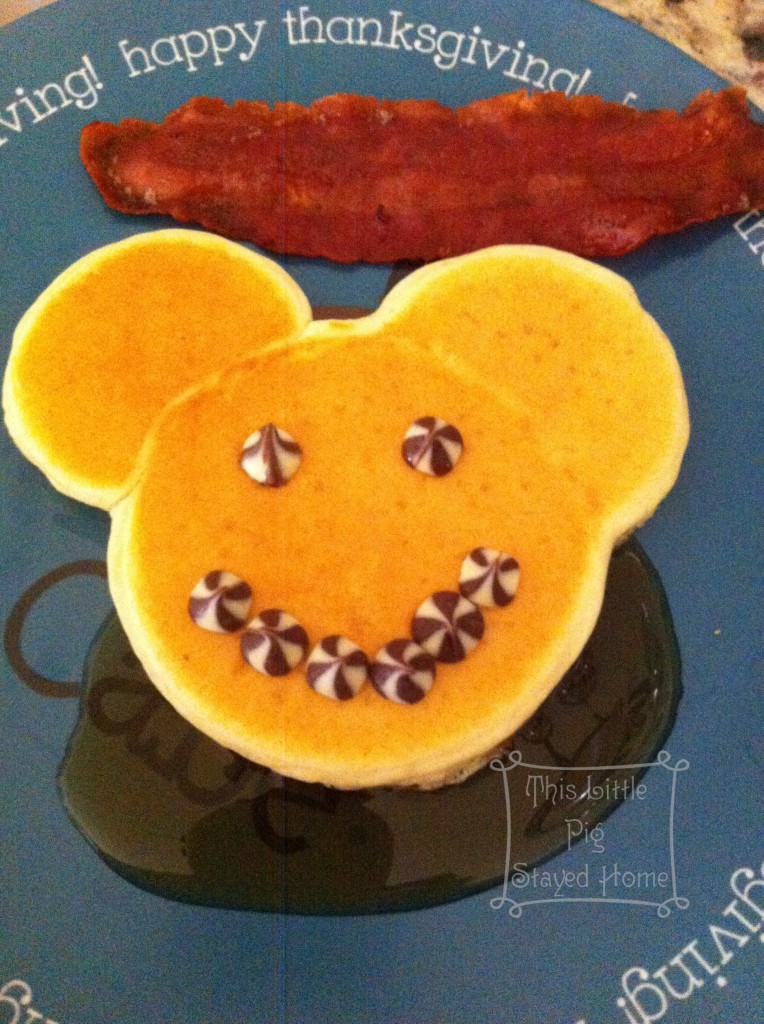 This was our usual Mickey Mouse pancake breakfast.  Until…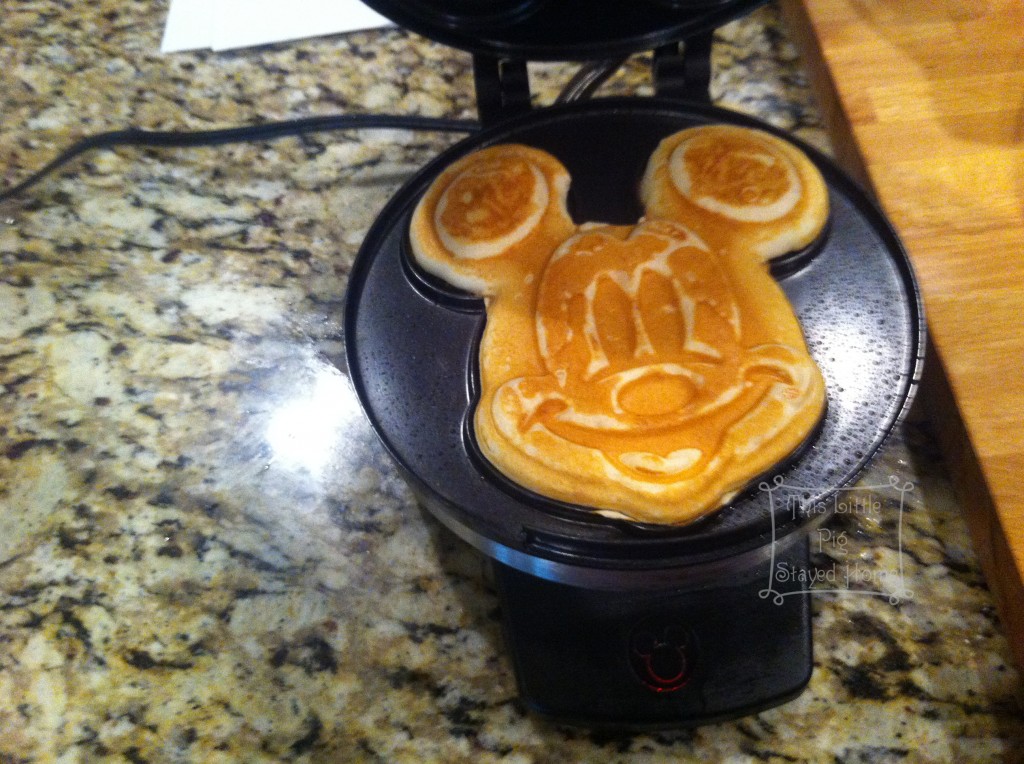 We found a nifty little Mickey Mouse pancake maker.  It was a whole lot easier than trying to get those three little circles perfect.  Can't tell you how many deformed Mickeys we ate.
So today for lunch, my First Little Piggy asked for a "chocolate sandwich".  This is a basic Nutella sandwich cut into whatever shape.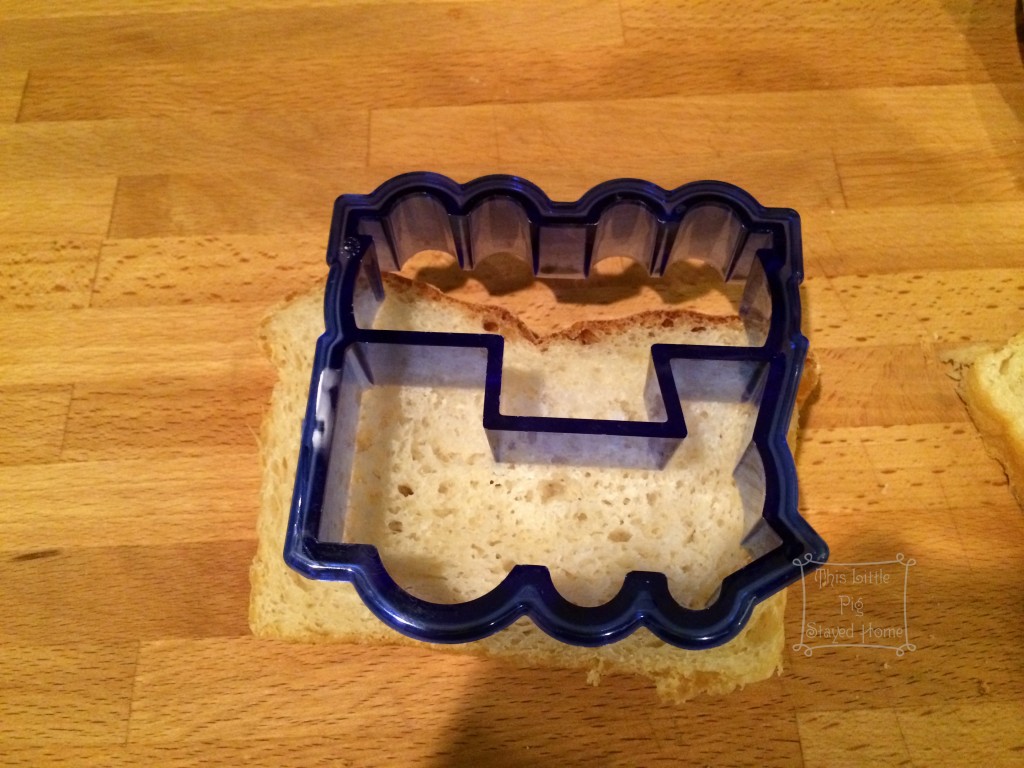 Usually I make a train because 1) He likes is obsessed with trains, and 2) I have a train sandwich cutter which makes life easy.  Today I was out of luck!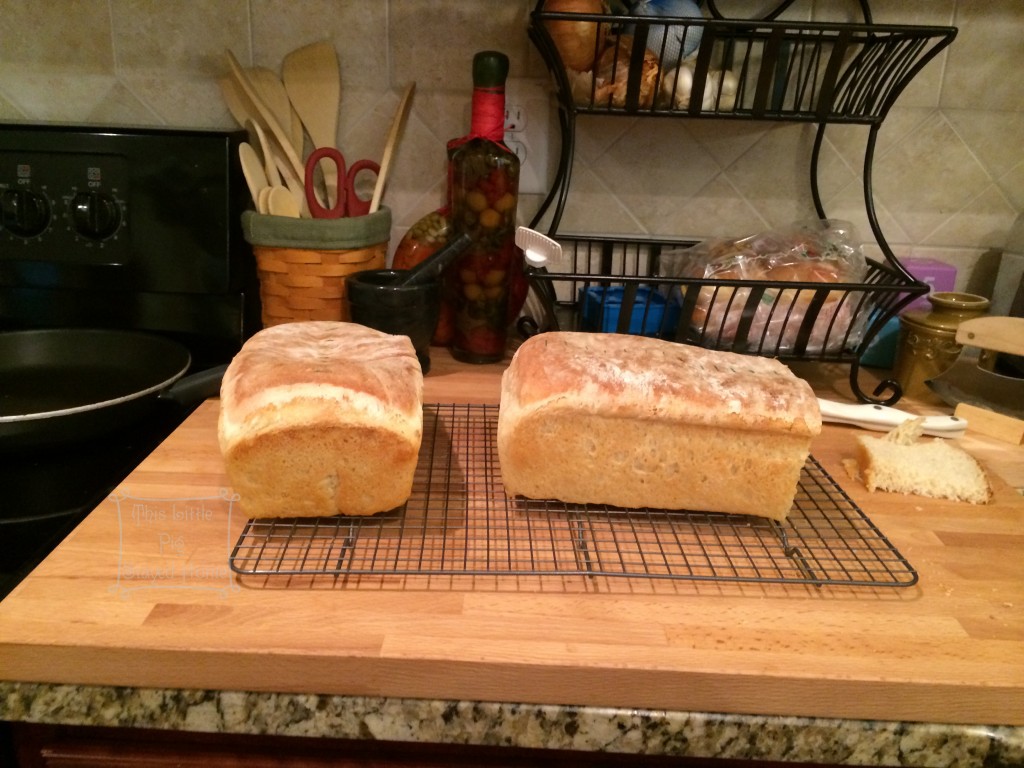 I had homemade bread, but my sandwich cutter doesn't fit these loaves.  I had to improvise!  First I cut two slices.  Sounds easy, right?  WRONG!  It never fails, when I cut homemade bread, I end up with one piece that is too thick on one side, and another that breaks in half or makes my sandwich lopsided.  We are also counting calories, so I like to know how many servings in each loaf.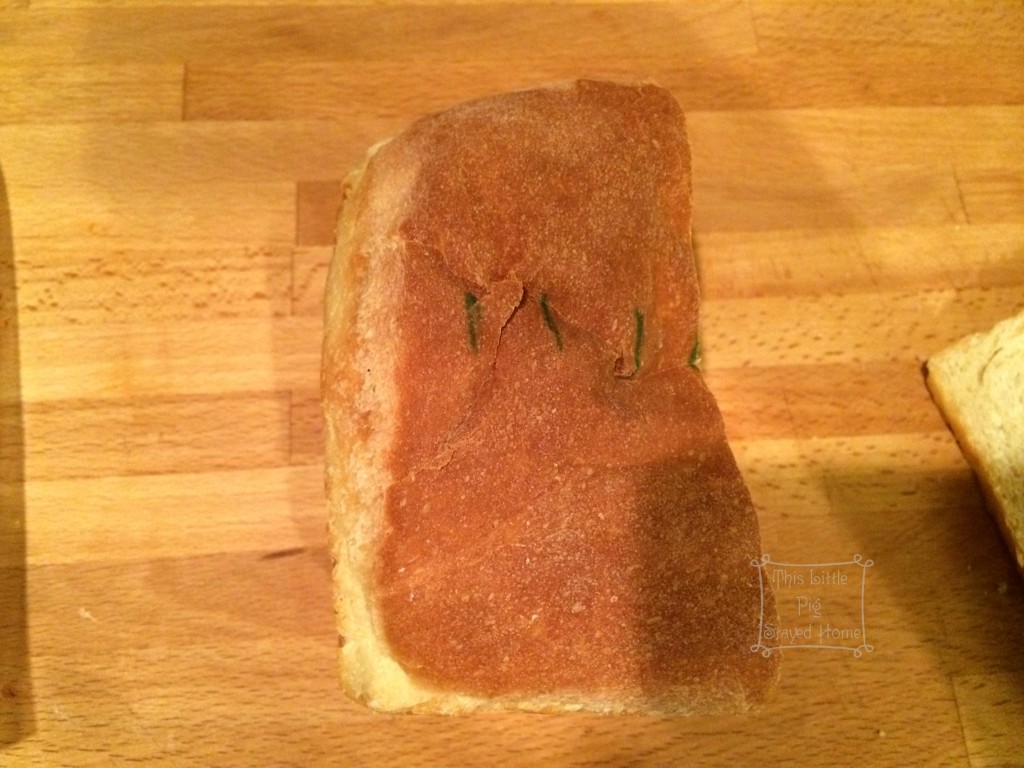 My solution is to draw on my bread.  I know it looks toxic, but I can assure you that it is safe.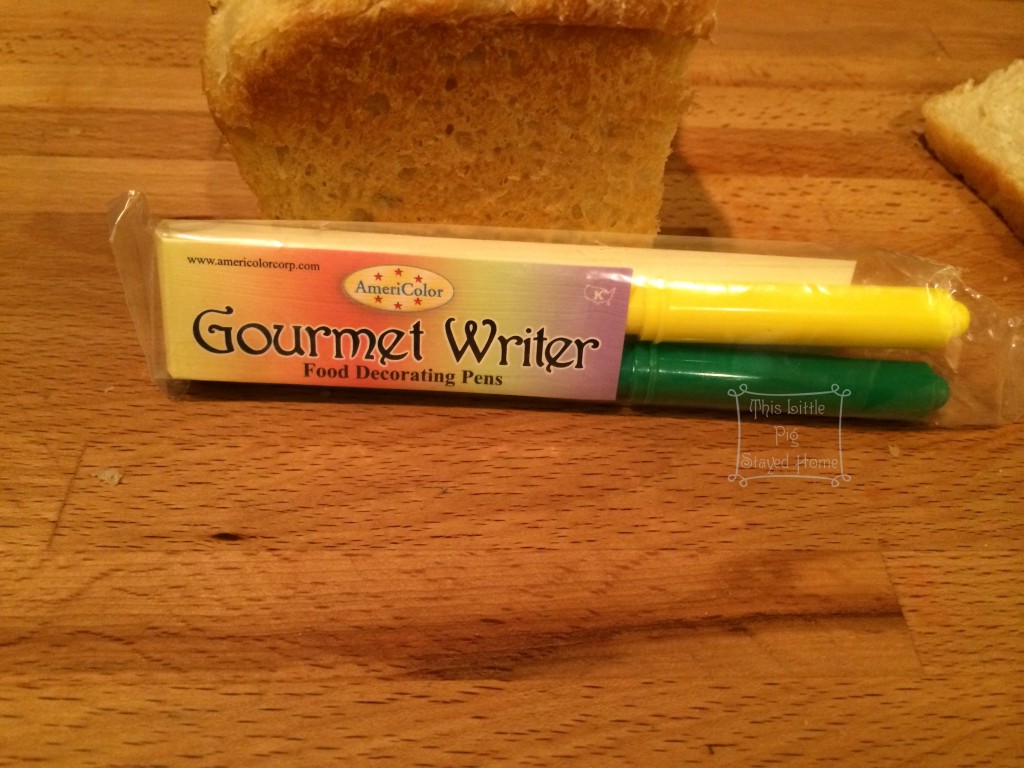 I bought these to draw on cookies that I made for Piggy One's Preschool class.  They were perfect for making guidelines on my loaf of bread so I would know where to cut.  I didn't get too crazy about the size of each slice and pull out the ruler.  I drew a line to divide the loaf in half, then those halves in half, and so on until I had 16 slices.  Why 16?  Because that made it even on each side and the slices looked about the size of normal slices of bread.  Also, it made the slices around 72 calories each, which is comparable to a store bought loaf.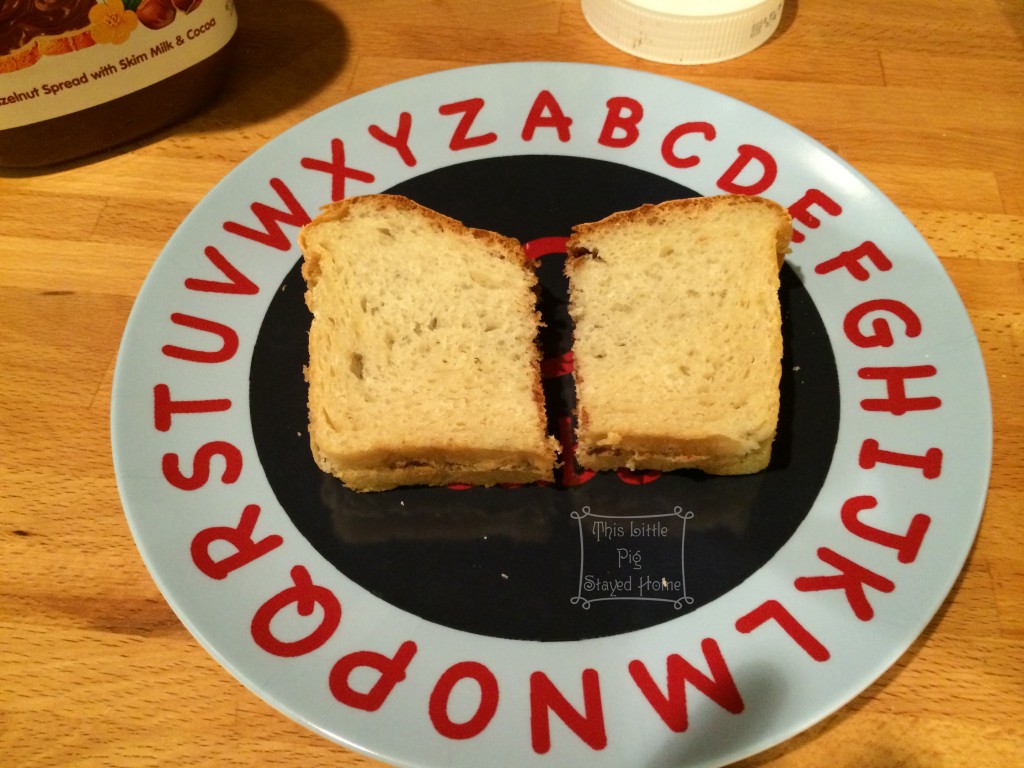 After I made a boring Nutella sandwich, I knew it would not pass the Piggy One test.  I had to think of additional items that he would eat, and that would make a "picture" he would enjoy eating.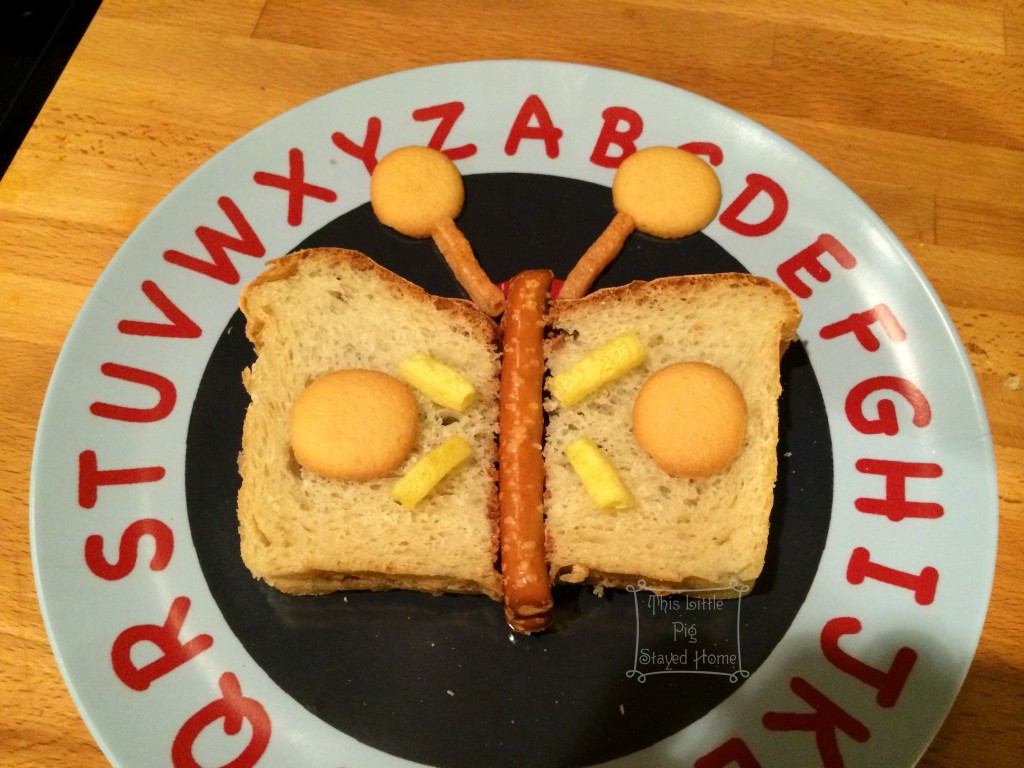 Veggie Straws are my usual "go to" accessory.  Unfortunately, Piggy Two had eaten all of them but about 10 little crumbs.  I used these to make lines on the butterfly wings and the antenna.  I needed a butterfly body, and pretzel sticks were just the right thing!  Add a few vanilla wafers, and my sandwich is almost done.  All I needed to add was fruit.
Apple wedges make the perfect flower petals, and a cheesy puff ball for the flower center.  It was a little girly, but he's still 3 and he had just caught a moth that morning, so it was perfect.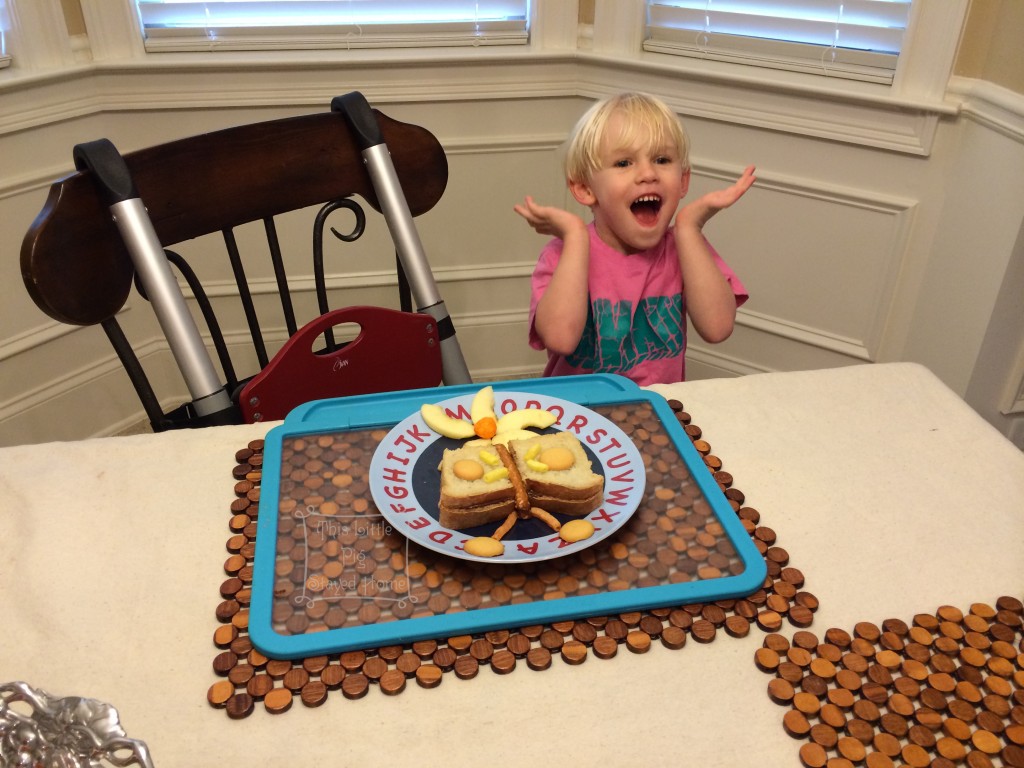 He loves coming to the table to see what his crazy Mom has created.  I searched through our photos and found a few pictures of some of the other creations we've created over the past few months.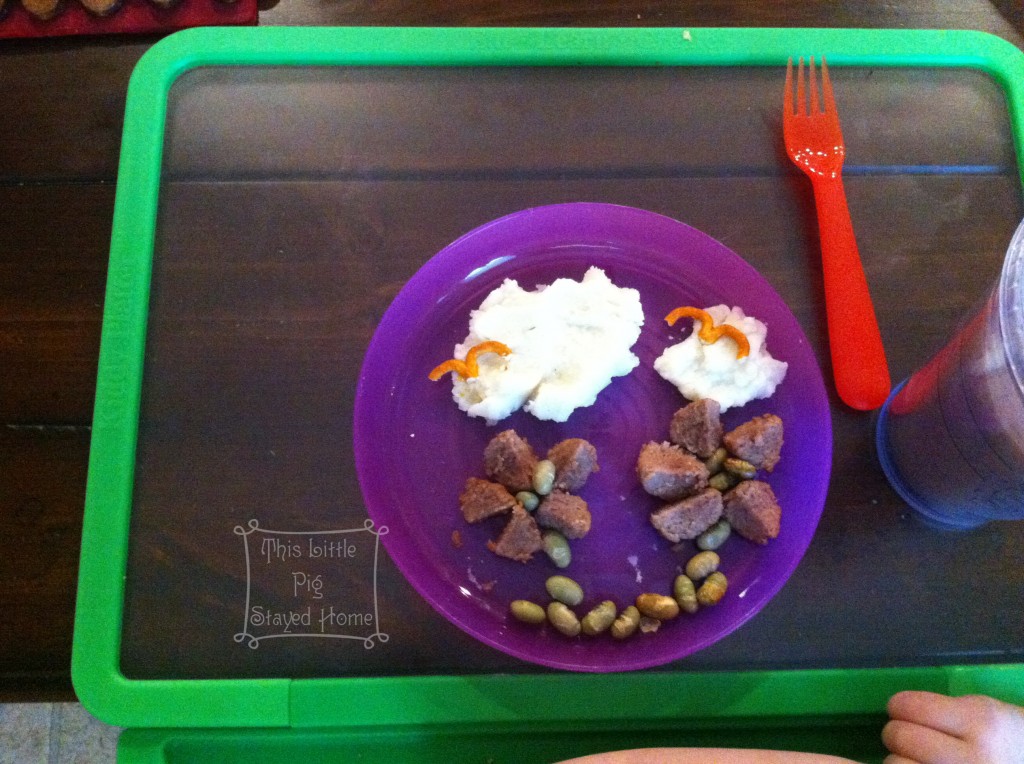 Meatball flowers, edamame stems, mashed potato clouds, and pretzel birds.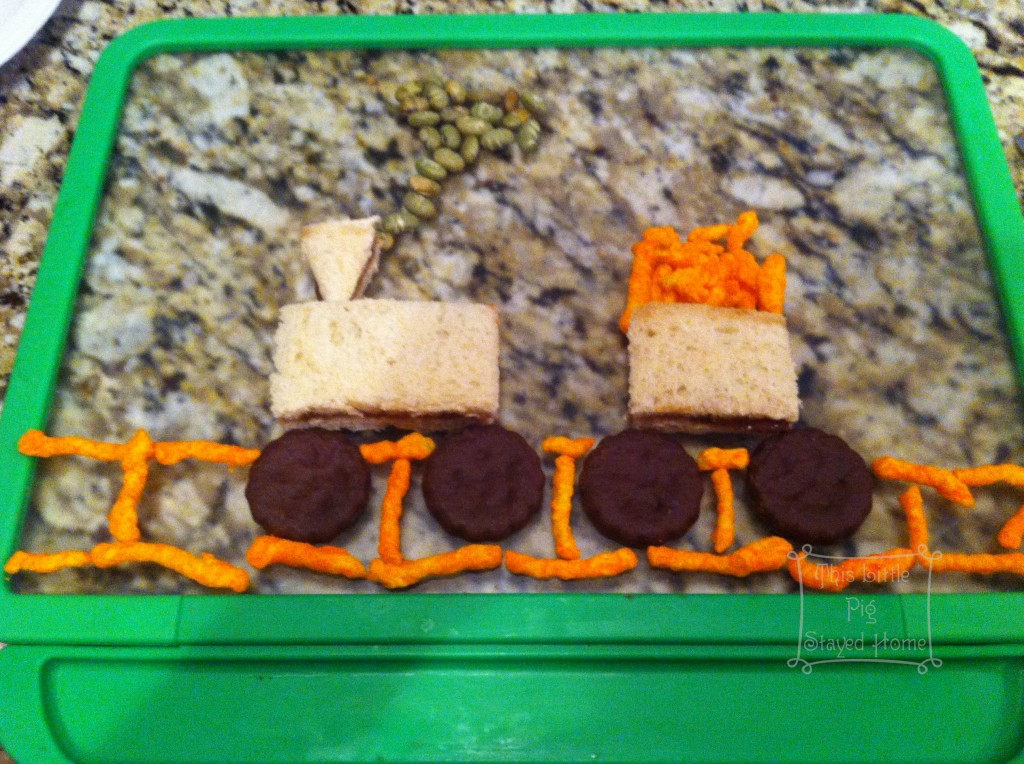 Train sandwich (before the train cutter was purchased), Cheetos tracks and tender, edamame smoke, and cookie wheels.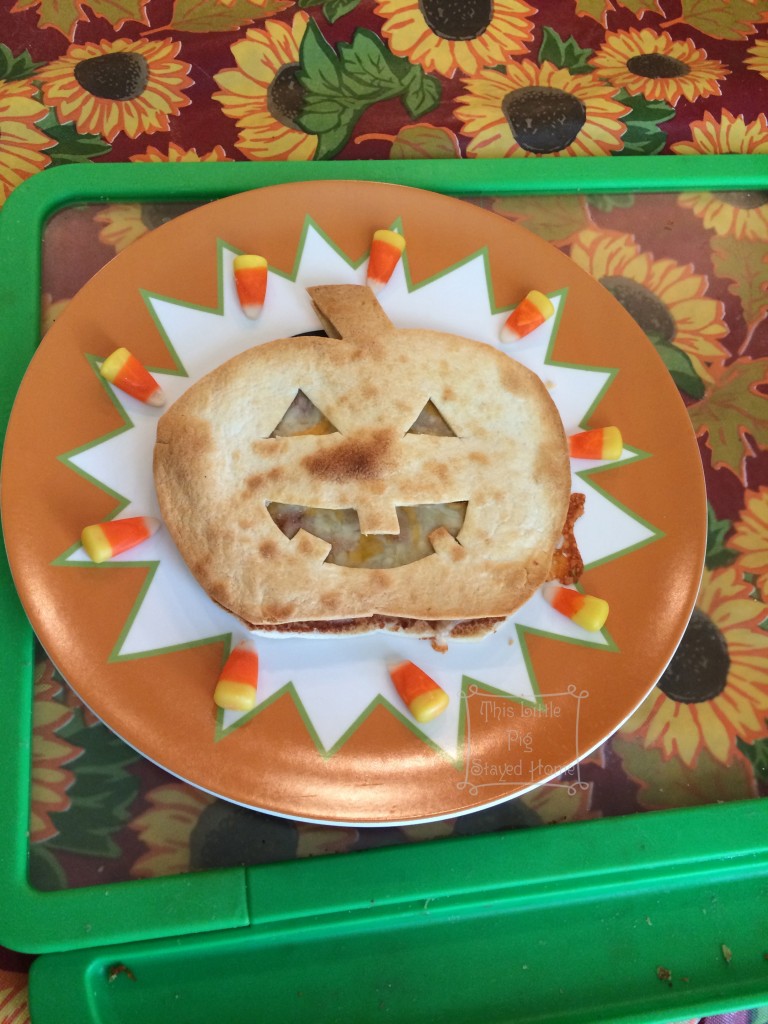 For this one, I cut out the pumpkin shapes freehand with a paring knife, toasted both sides to make them crispy, then filled them.  You could put anything your child likes. We used taco meat, and cheese.  Of course, we can't forget the best part – the candy corn trim!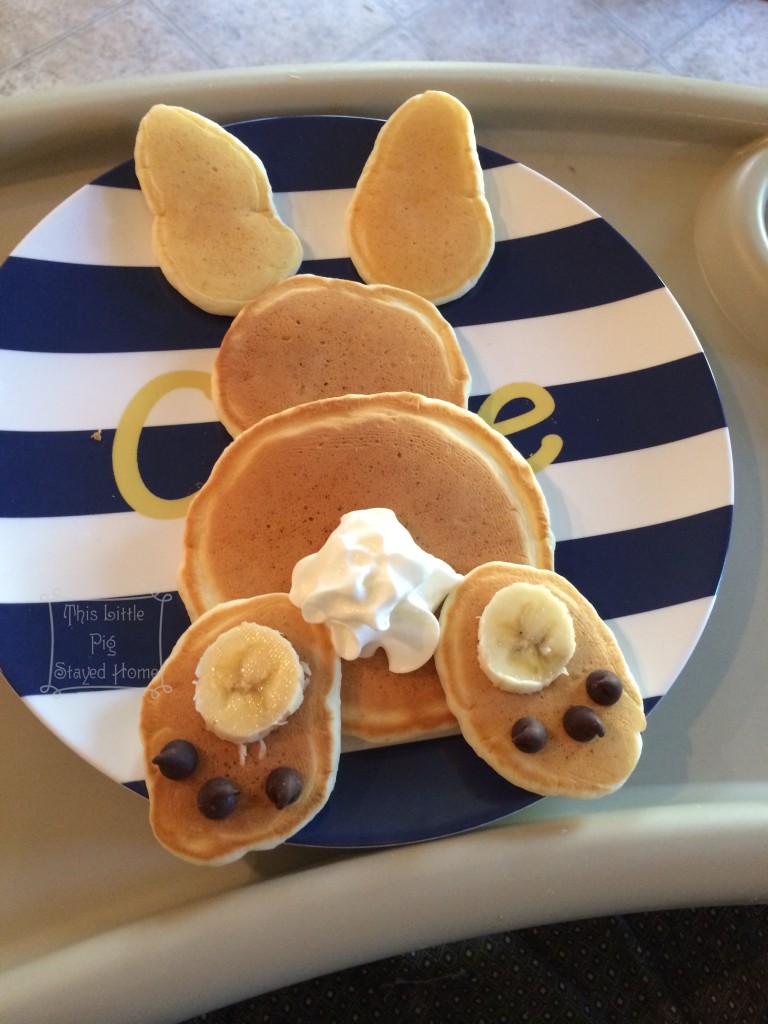 Finally, my favorite is our bunny pancake.  I saw this posted on a friend's Facebook wall this past Easter.  I wish I could give credit, but I honestly cannot remember who posted it, and have no clue where they got it.  My guess is, it can be found on Pinterest.  For this one, I made a large circle for the rabbit body, a small circle for the rabbit head, two larger ovals for feet, and two long and thin ovals for ears.  I used two banana slices for the feet, chocolate chips for the pads of the paws, and a cute little whipped cream bunny tail.  This one was a BIG hit Easter morning!
The best part of making cute designs for my Piggy…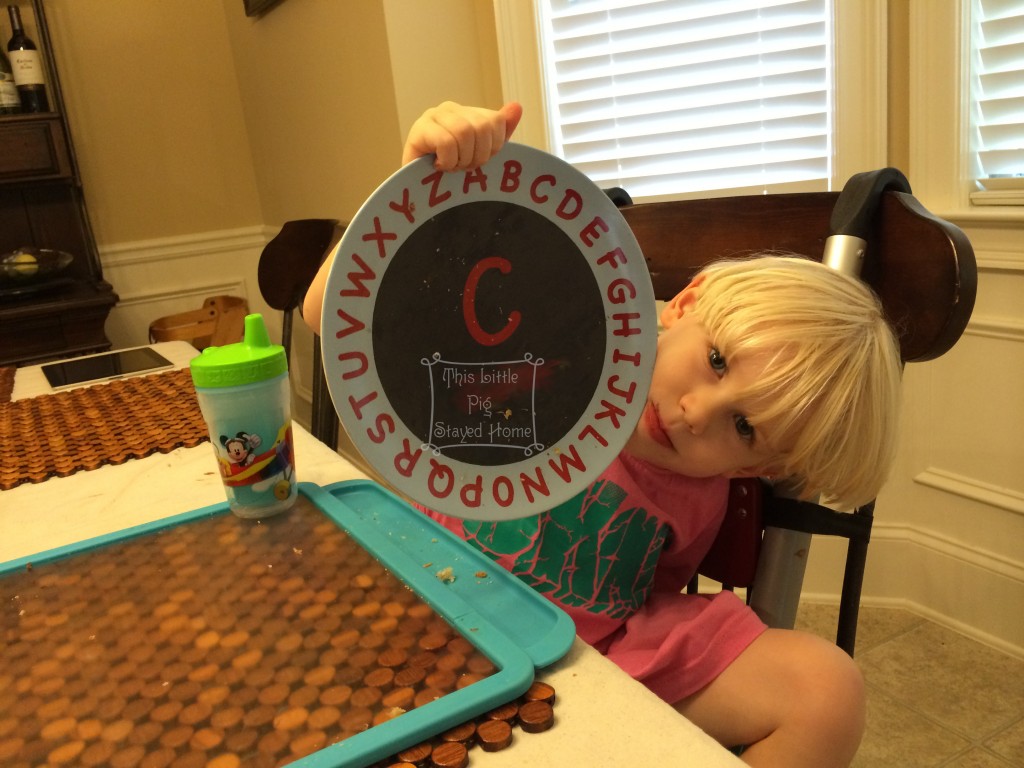 The smile on his face, and an empty plate!  (The chocolate covered mouth is an added bonus!)
Do you make food art?  My brother recently sent a link to amazing food art.  I wish I were that talented.  I use basic simple shapes and go from there.  If it looks remotely close to what I was going for, I'm happy.
Stay tuned as we start gearing up for school!