Yesterday, I shared our most favorite sandwich bread recipe ever!  It truly is the best sandwich bread!  Today, I am going to share how we took this bread and made Rainbow Bread!
During the Christmas break, we had lots of family in town, spent about 4 days in a hotel, and had a big wedding celebration for my brother.  Needless to say, by the time New Year's arrived, we were not ready to party.  We were ready to stay in and relax.  I did want to make it a fun night, though, so we decided to make something fun and festive.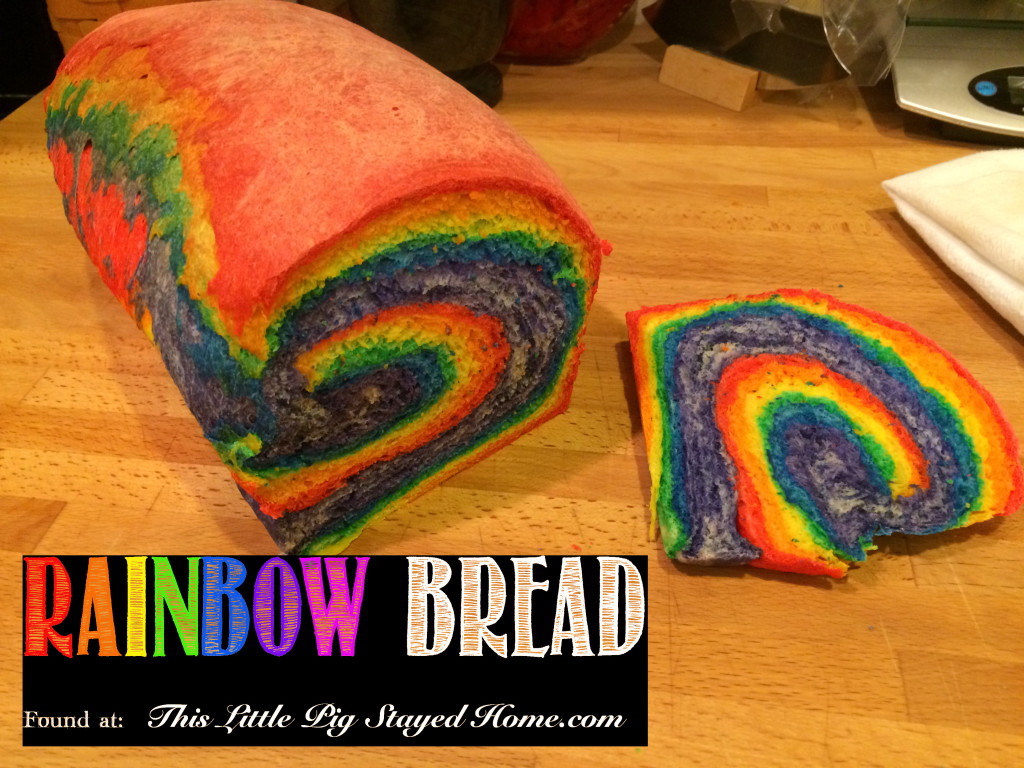 First thing you need to do is make the dough.  The recipe can be found HERE!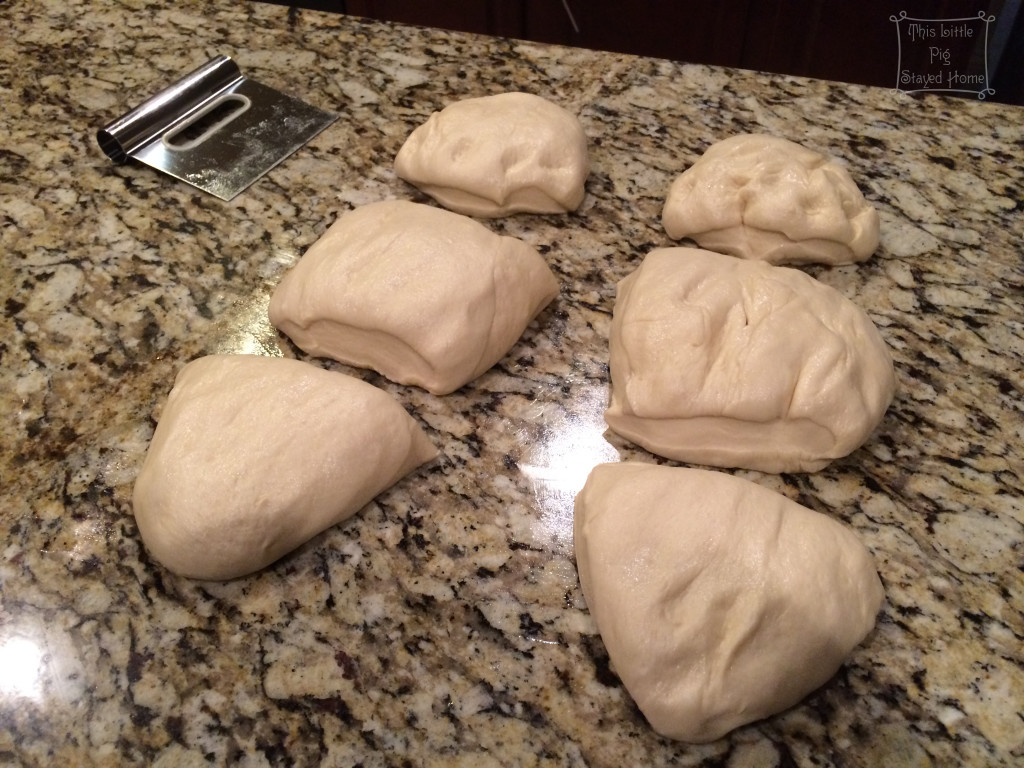 When you get to step 9, which is after the first proof, instead of cutting the dough into 2 pieces, you cut it into 6.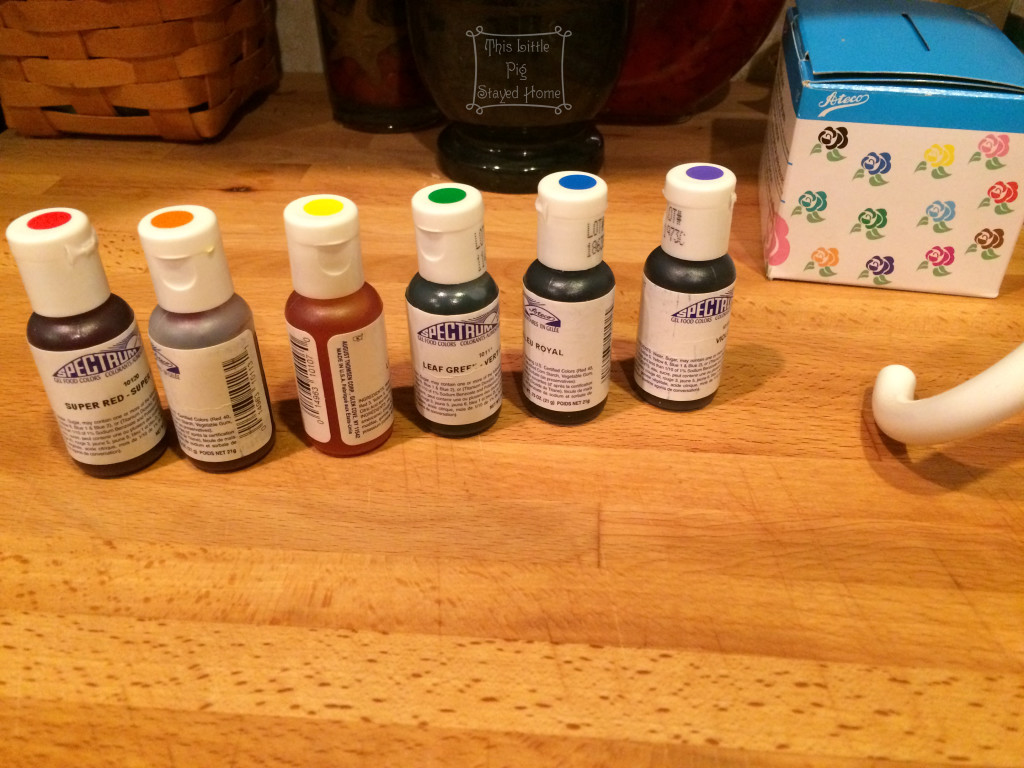 I got out my trusty gel food dye in the colors of the rainbow – ROY G. BIV – Remember that guy? – and used those to dye each piece of dough.  It takes a lot of dye!  If I had to do it again, I wouldn't use gel dye.  It is too expensive.  I would use the cheap liquid stuff you can get at the grocery and mix my own colors.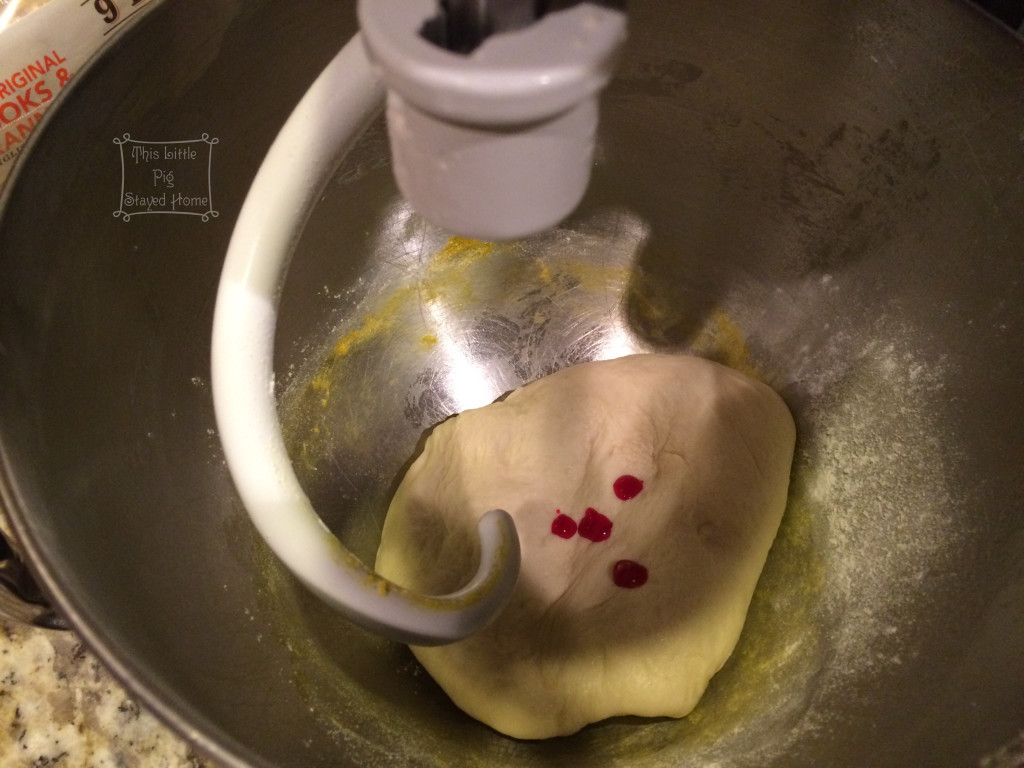 These were my first drops of orange dye.  It wasn't nearly enough!  I had to probably triple it.  After I realized how much dye I would be putting into the bread, I thought that this would likely be a once-a-year kind of bread.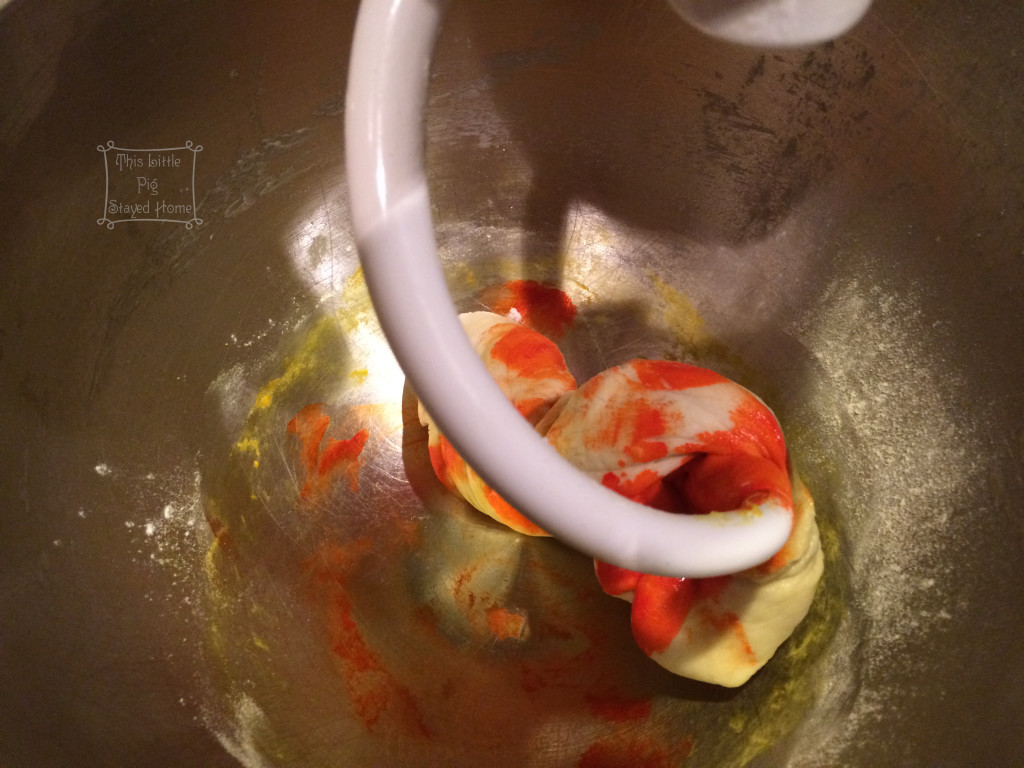 Here you can see the dough hook doing it's job.  It took a long time for each dough ball to reach the right color.  I ended up having to add just a sprinkle of flour to each ball because the gel made the dough a little too wet.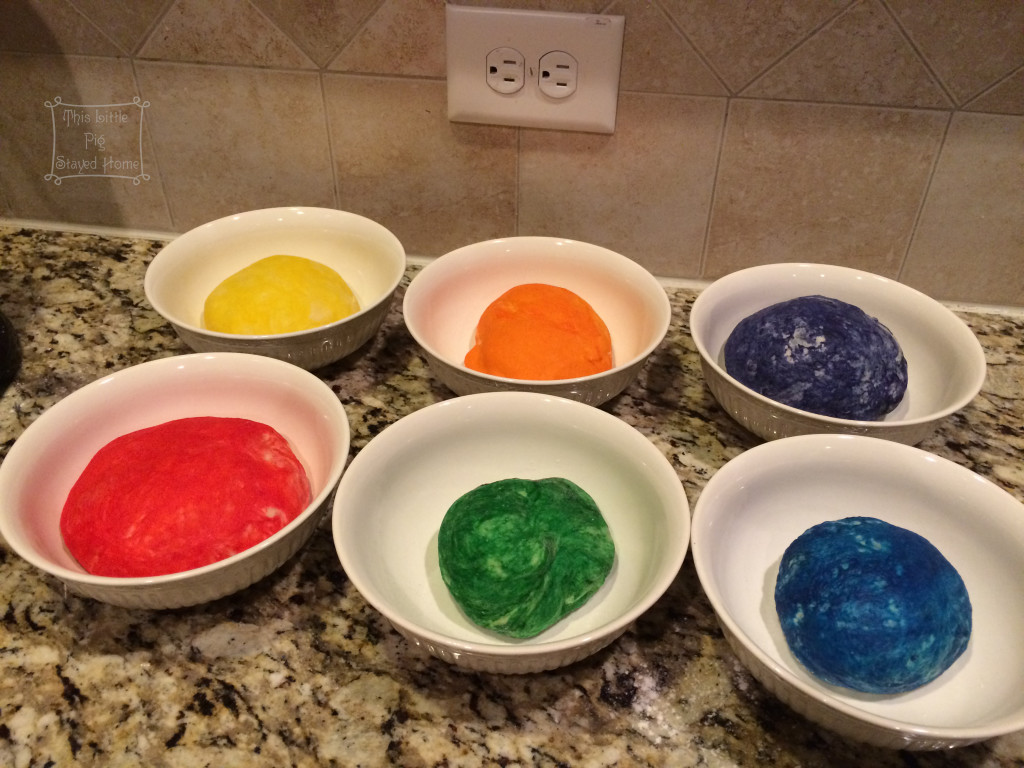 You can see that the darker colors had a hard time mixing in completely.  When I put them in the mixer, I did the lighter colors first, and progressed to the darker.  This way my bowl wouldn't mess up the colors.  I did yellow first, then orange, red, green, blue, and last, purple.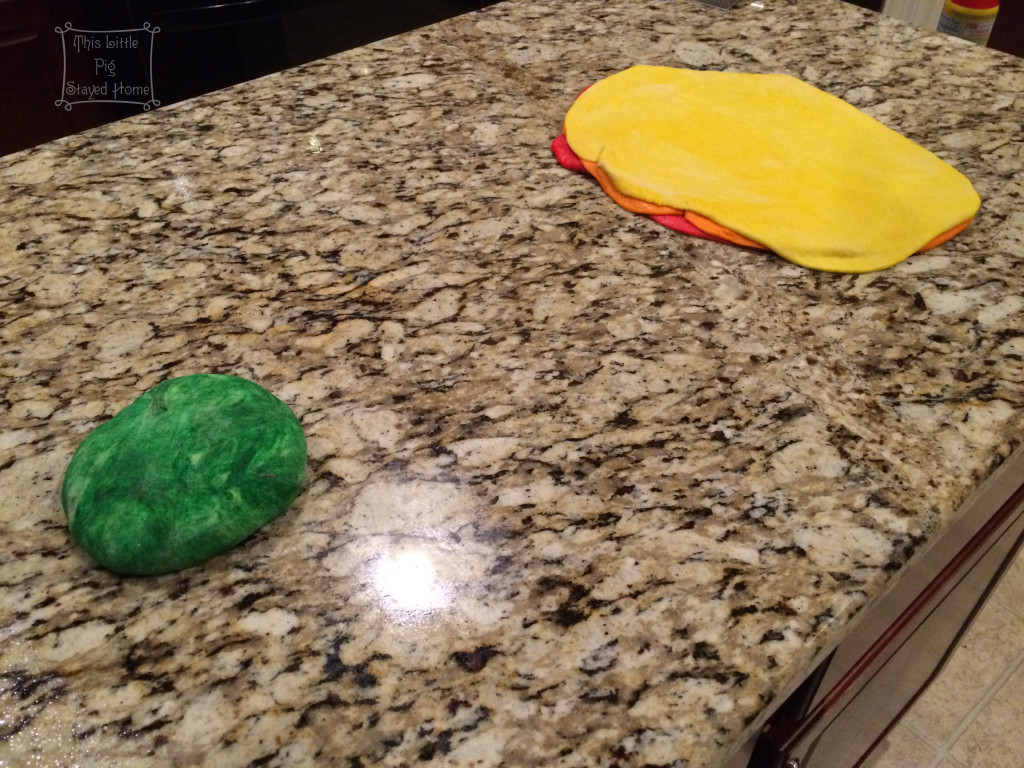 Now that my colors were done, I rolled out each one in order of the rainbow and stacked them.  I sprayed the counter and my rolling pin with cooking spray before each color.  I also tried to keep them about the same size.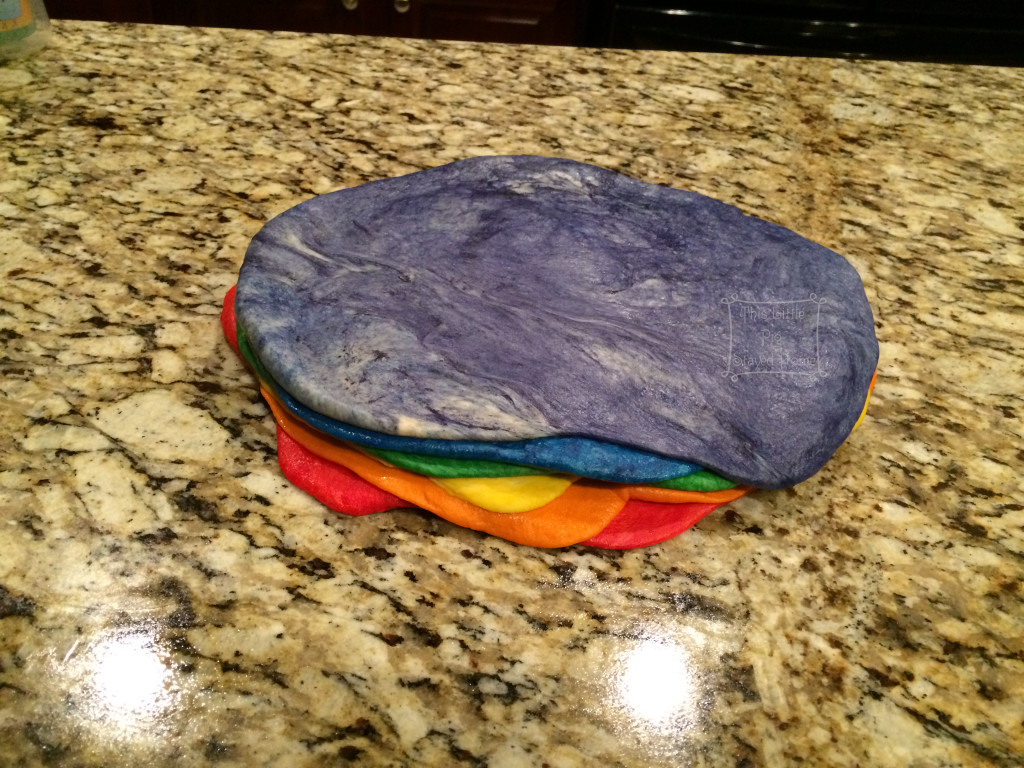 After they were stacked in order, I rolled them together to help them stick.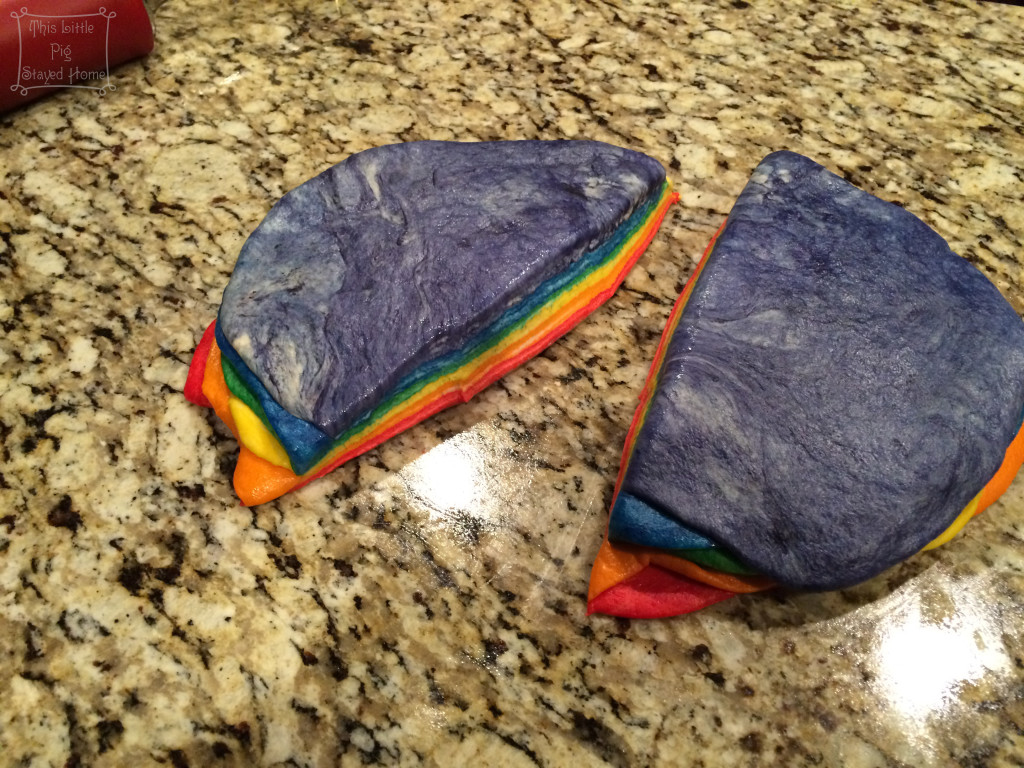 I had enough dough to make 2 large loaves or 3 small loaves.  Because I was making 2 large ones, I used my bench scrape to cut the dough into two pieces.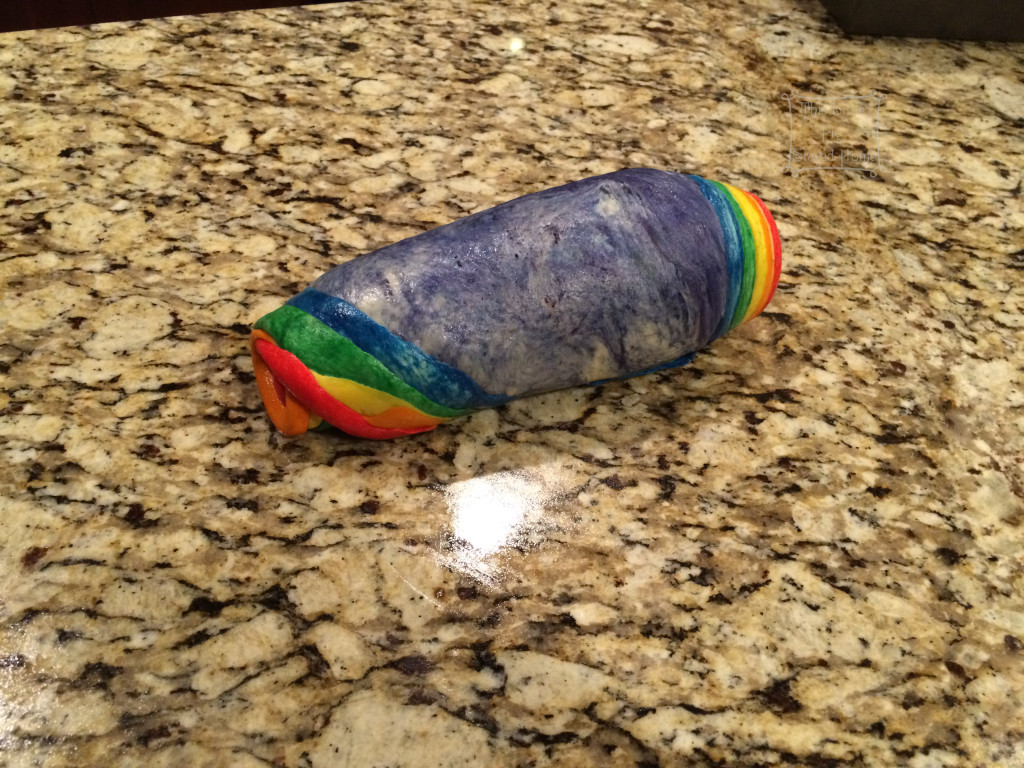 I rolled each piece out into a rectangle – the width of my pan, and about twice as long.  Then I rolled it up tightly with the seam on the bottom.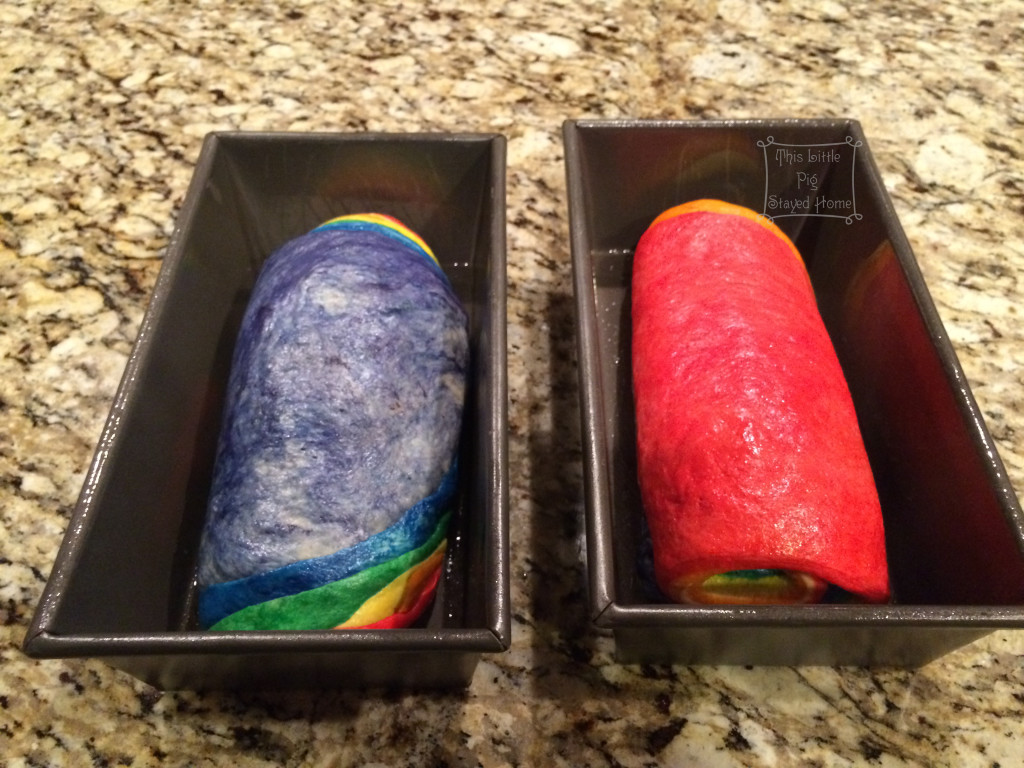 I rolled one loaf so that the red was on the outside, and the other opposite, so that the purple was on the outside.  (We liked the look of the red one better.)
From here, pick up with the original recipe for the second proofing.  I put them in a 175ºF oven for 30-40 minutes.  (Mine takes 40 min.)  Then, I baked them in a 350ºF oven for 30 more minutes.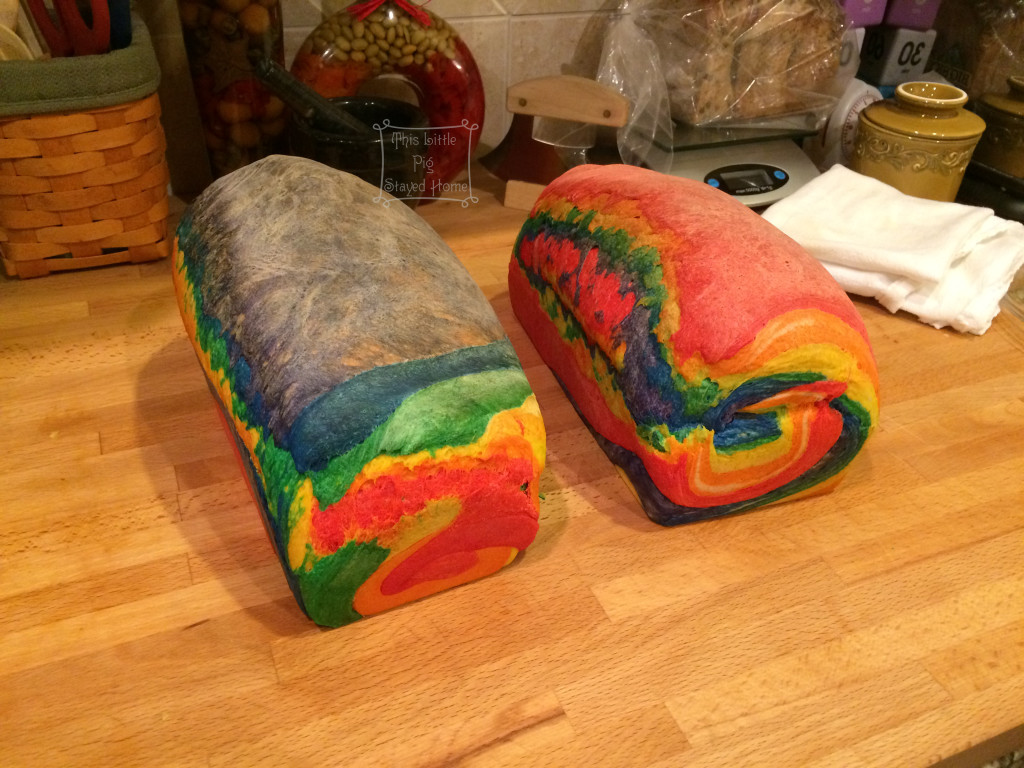 And here they are fresh out of the oven!  Aren't they pretty??!  The boys were thrilled with them!
If I had to do it again, I would probably make lots of loaves – enough so that I could color the water in the beginning with the dye.  In other words, the blue would make two loaves, the red – 2 loaves, the yellow – 2 loaves, etc.  I would end up with 12 loaves, but it would honestly be much easier than mixing all that gel into the dough after the first proof.
In all honesty, I wasn't thrilled about giving my kids that much dye.  It was a special occasion, and I blew it off since it was a treat, but I probably won't do it again for a long time.
And here is a nice picture for you to pin!
If you have any suggestions to dying the bread naturally without changing the consistency of the dough, I would love to hear!  I would also love to see pictures of your attempt, or how you changed it up.
Next month my son is suppose to take snack to school on their "snow day fun day".  I am thinking of making a swirled light blue and "norma colored" bread.  Then when I cut slices, I am going to use a snowflake cutter to cut the bread and cheese.  If it turns out cute, I'll be sure to share it with you!
Happy baking!
Heather