We did it!  We successfully planned and completed our first day of home school!  Honestly, I was overwhelmed with so much material that planning was becoming an impossible task.  I finally dug through my old teaching files, looked at some of the new things I had found online, and just jumped in.  I put on my teaching hat, imagined that I was thrown into a teaching situation without warning, put all the info in front of me and starting pulling what I would do on the fly.  It worked!  Within a few hours, I had a basic curriculum planned out for the year, a schedule planned for our day, and the first month's plans in order, copied, and organized.
So here is our basic "Year at a Glance".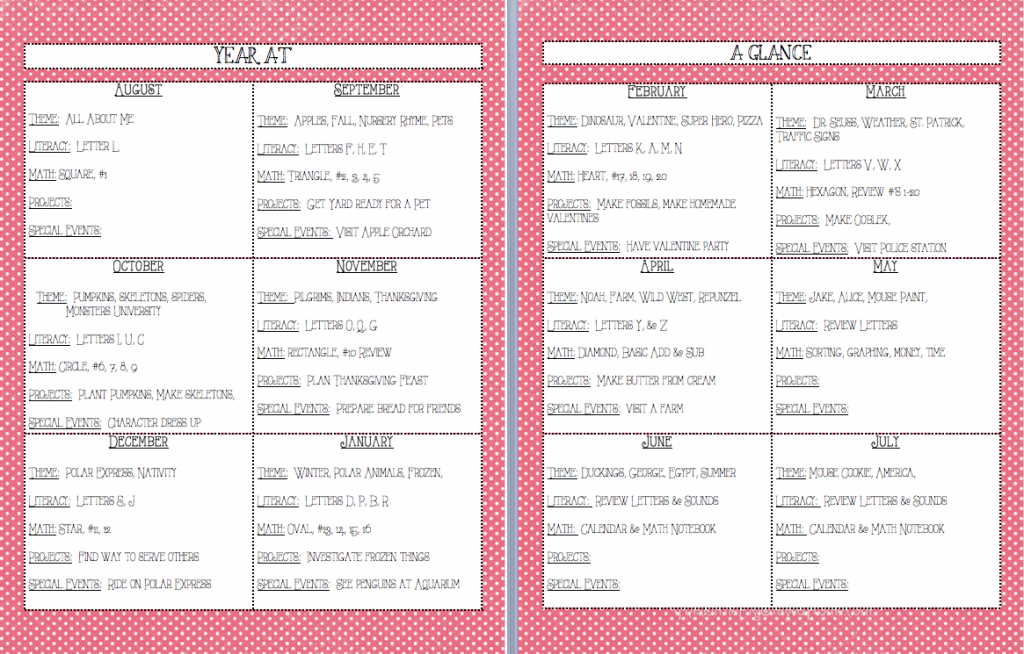 I left some of the special activities blank because I felt like I needed to give myself a little bit of wiggle room.  We are still attending Preschool 2-3 days a week, so I didn't want to overwhelm us this year.  And, let's face it – my little Piggies are still only 2 and 3 1/2.  They need lots of independent play!  I will post more about our curriculum later.
Our daily schedule looks like this: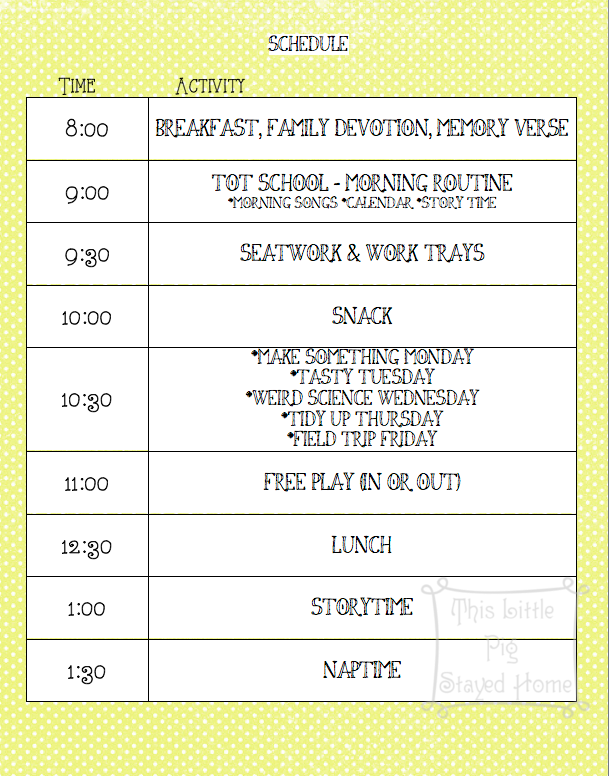 I tried to keep a schedule that resembles the one they will have at Preschool.  It really seemed to work well.  In my teaching experience, I have always tried to get in as much learning/teaching as possible before 11:00.  I know that I drag after lunch, so kids have to be exhausted by then.  (You can download both the Year at a Glance and the Daily Schedule here.)
Below are some of the photos I took from our activities.  Most are activities from our work trays, or work drawers.  I haven't purchased a cart yet so I put their materials in disposable aluminum pans for now.  This is the cart that I think I want to order, but I think I can get it cheaper at one of the bulk stores we frequent.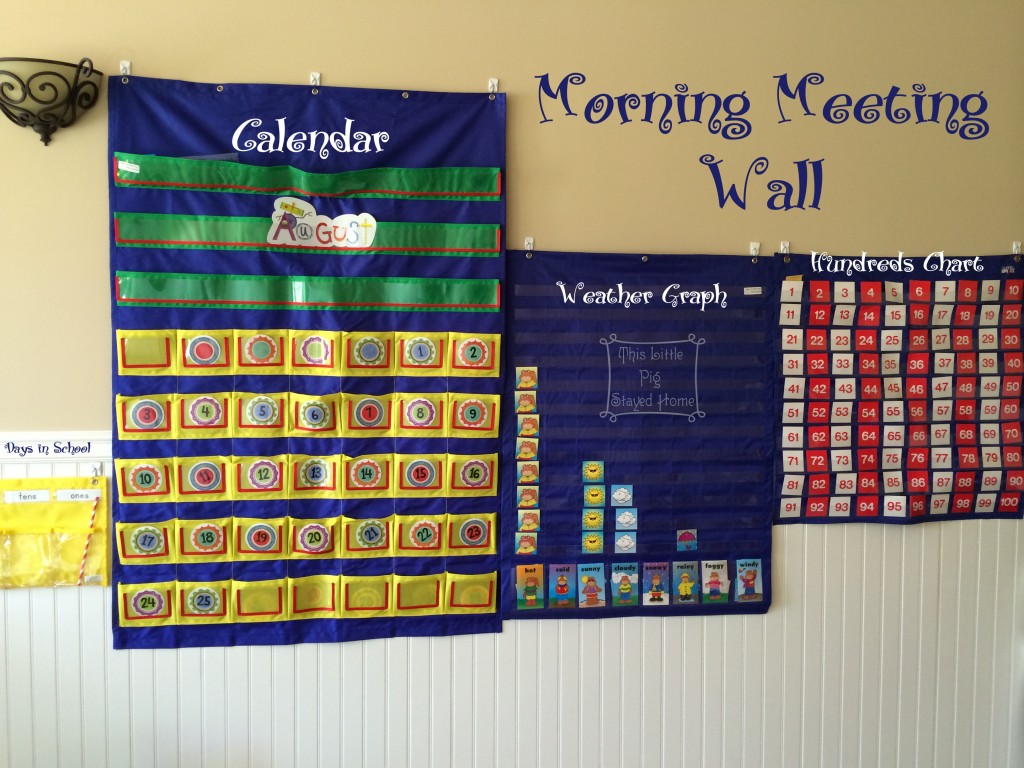 While eating breakfast, we read from our Children's Bible for Toddlers, learned our memory verse for the week, and then went over the questions of catechism.  After we cleaned up our breakfast mess, we went into the classroom, sang some songs, talked about the calendar, and graphed the weather.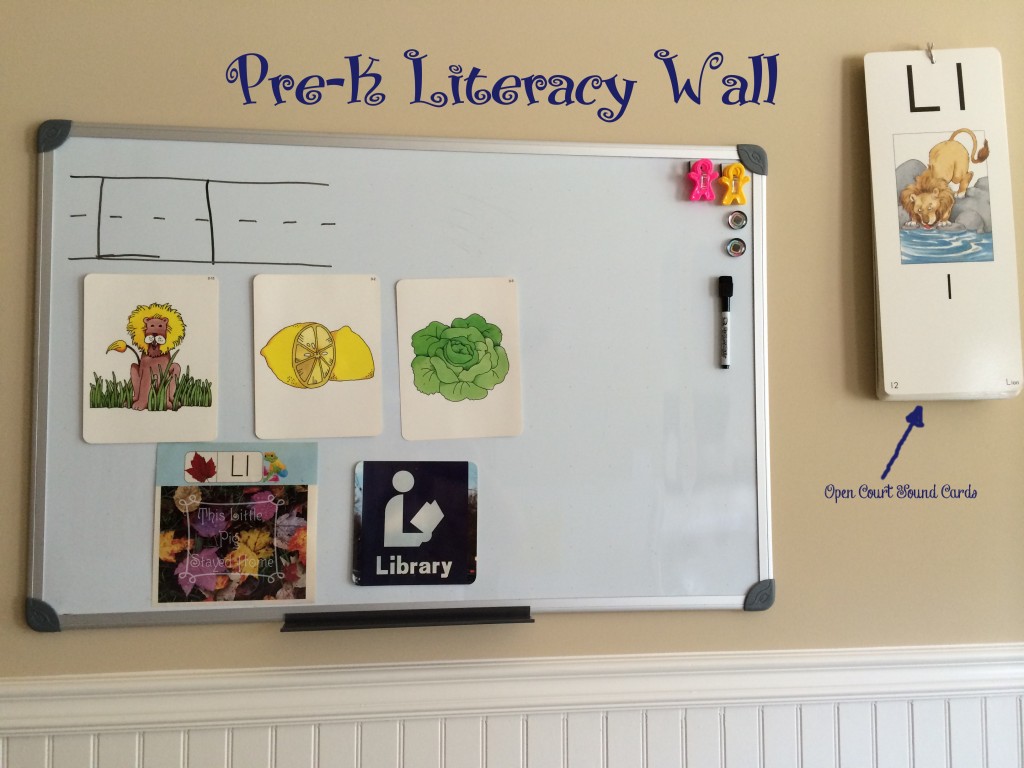 Next we learned our letter for the day.  We found this magnetic dry erase board while shopping this weekend for $15.  SCORE! We snatched it right up!  Here is our board after learning about the letter Ll.  I am following the same sequence as the boys' Preschool because I don't want to confuse my Piggies.  They use Handwriting Without Tears and follow the scope and sequence from that program for introducing letters.  I decided to do the same thing to keep the confusion down.  If it were just me, I wouldn't let handwriting drive my phonics program, but for now – at their age – it will work.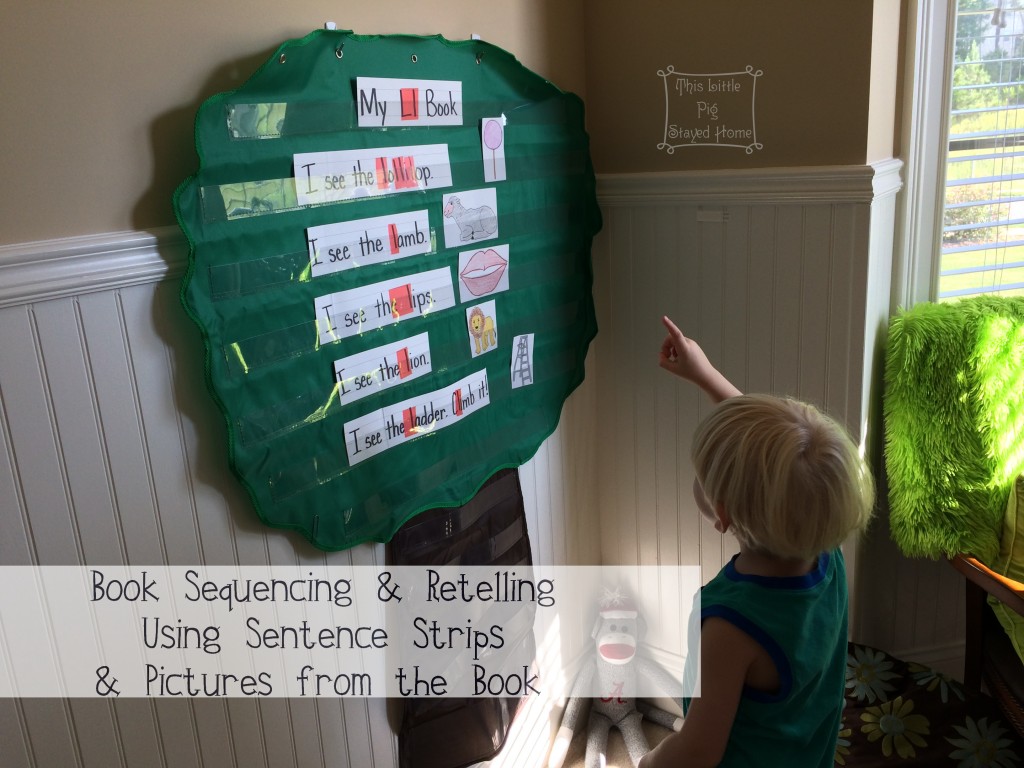 We read "My Ll Book" and then retold the story using sentence strips.  My Piggies got to match the picture to the sentence strip.  Then they used highlighter tape to find all the upper and lower case L's.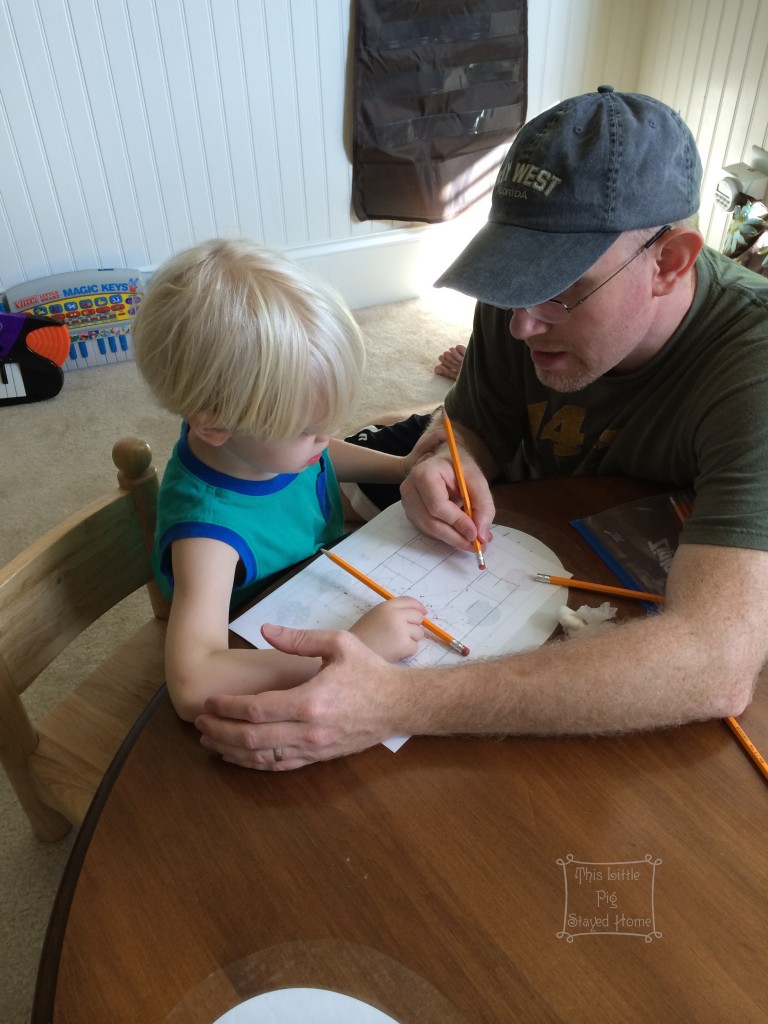 Next, both boys got to work on their work trays.  Each one completed 3 trays.  Piggy One chose to complete handwriting practice, tracing practice, and his L collage page.  Piggy Two had his T0t Trays filled with his own handwriting page (just so he could learn to hold a crayon or marker if he wanted), and then a tray full of yellow items hiding in packing peanuts.  He had more fun destroying the peanuts than playing with the yellow items.  I will post more about the learning trays in a separate post.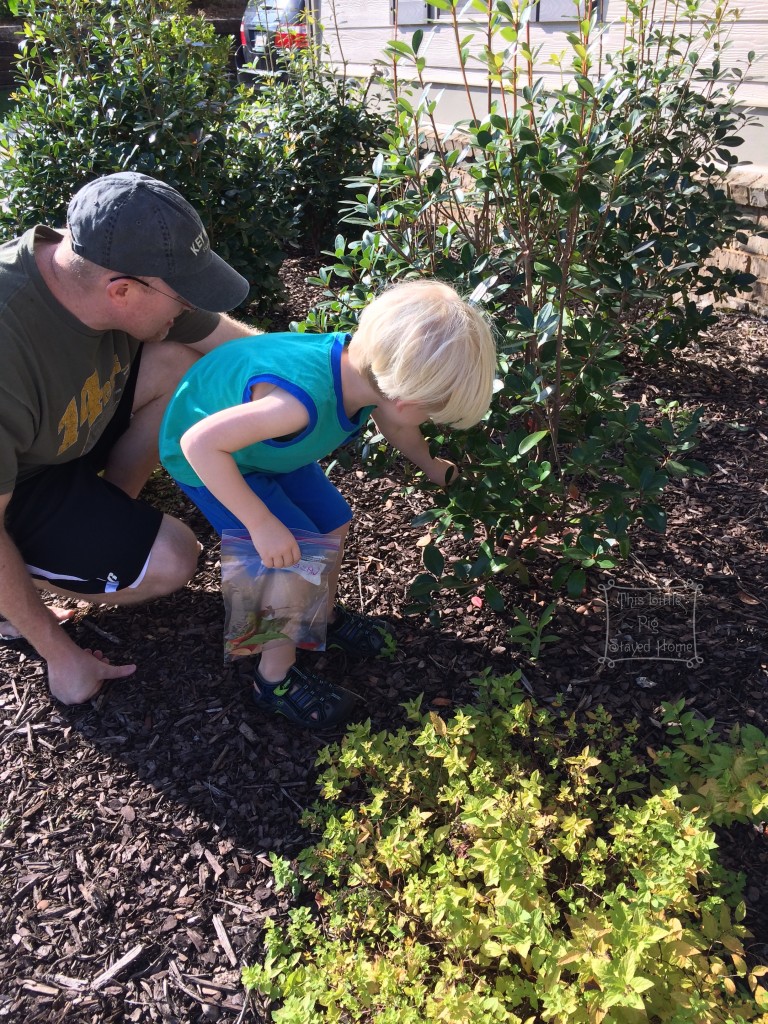 Finally, since Piggy One wanted to do his L collage page, we let both boys do it at the same time.  We went on a walk around our house to collect pretty L-L-Leaves.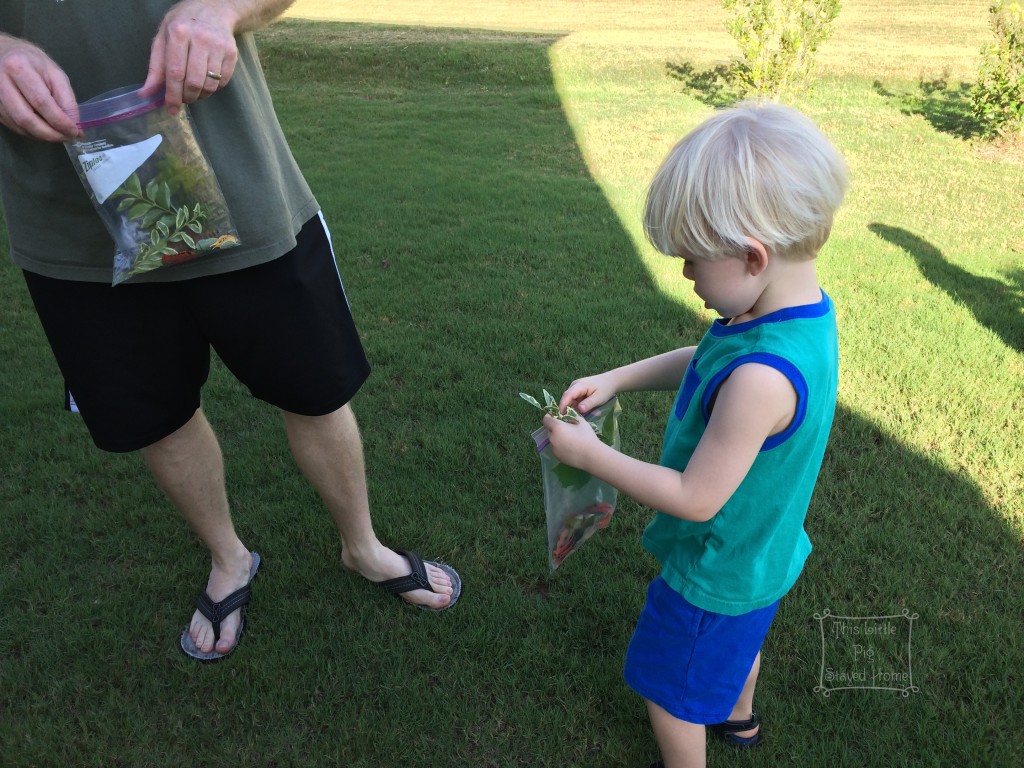 Piggy One did a great job picking out different colored and unique leaves.  Piggy Two had more fun picking up and throwing mulch, so Daddy got to practice his leaf collecting skills. 😉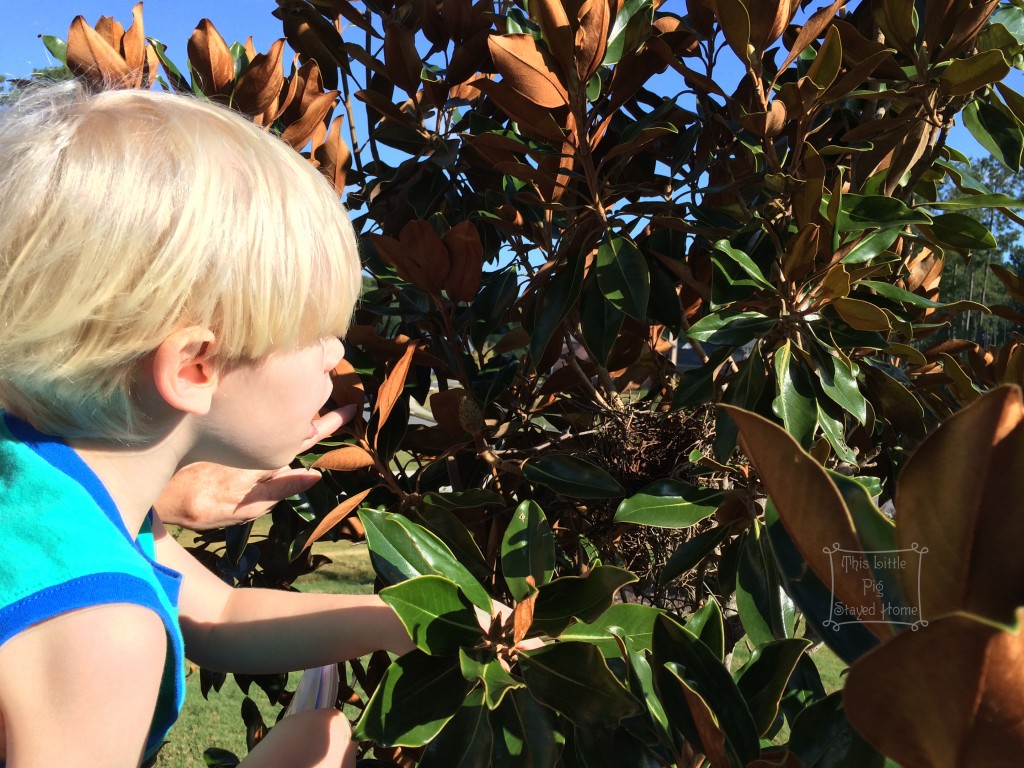 We did find a bird's nest in our miniature magnolia in the front yard.  The boys were very concerned about the birds that lived in the nest.  I tried to explain that they weren't home, or that they moved out for awhile.  I have a feeling we will be checking on the nest and the birds often.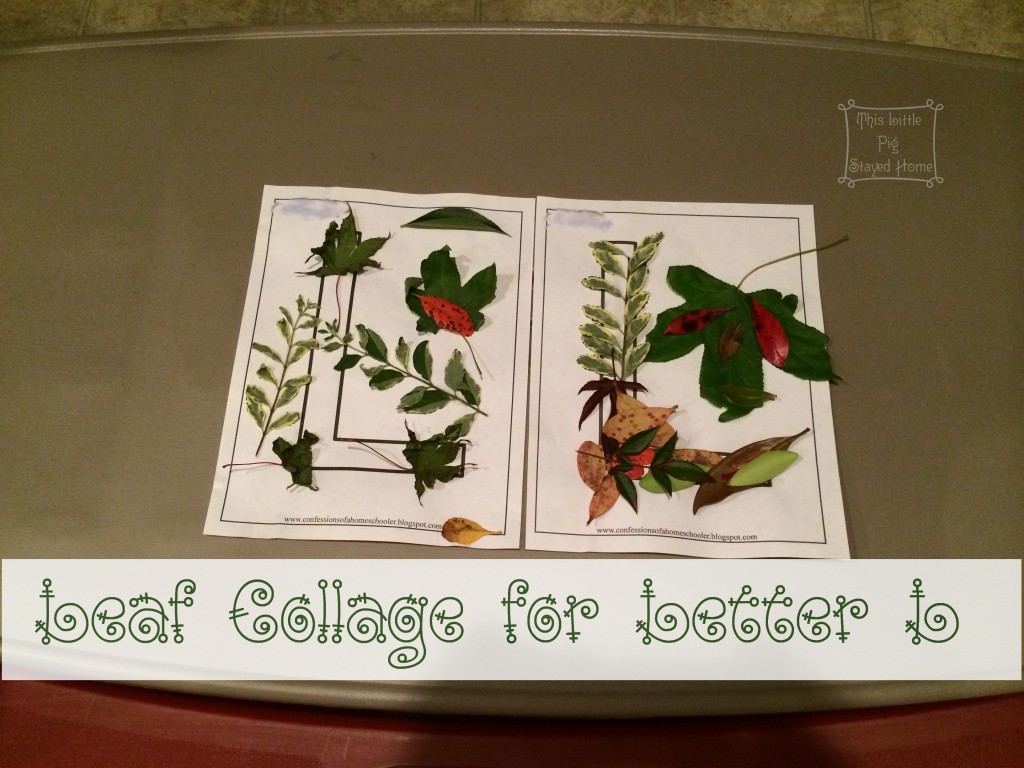 With a little LOTS of help with the glue, we attached our leaves to our L page and left them to dry.
We were finished and ready for free play by 9:45!  Honestly, they were done!  We started around 7:30 with devotion and breakfast, so by 9:45, they were ready for a break.  As they get more into the swing of things, we will extend our day a little.  We are doing a lot of reading in the afternoons and before bed right now, but will include more stories in the morning as they can sit still longer.  Also, as Piggy One transitions out of a nap, I will give him the opportunity to do more work with technology while Piggy Two sleeps.  They have a blue million learning apps on their iPads that they get to play with in the afternoon.  At their age, that will remain somewhat unstructured.  (By the way, if you're not familiar with "a blue million", it's a number we use in the South.  It means a lot more than a million, but less than a trillion – somewhere in there…round about.)
So that was our first day!  Success!  Now to plan for our first day of Preschool!  Both boys are taking treats for their new friends, and they both have to take snack for the class this week.  Of course I could throw some pretzels in a bag, but if you know me, that just won't do!  "It ain't fittin!  It just ain't fittin!"  I'll show you the treats I made that kept me up until 1:30AM on the next post.
Right now, I get to go pick up my boys after their first day!  So far no tears for anyone…
Heather
(This post does contain affiliate links.)